Although widely used in leather-related discourse, genuine leather is perhaps the most misunderstood term in the industry, if not the entire fashion world.
You'll see it stamped on leather products worldwide, from Italian designer handbags to the relatively inexpensive belts and shoes sold in bustling Indian leather markets. But what does genuine leather actually mean? For many, the phrase is a signifier of exceptional quality — in reality, that's rarely the case.
You can read our easy-to-understand take on the tricky topic of genuine leather below. Expect a few surprises.
What is genuine leather?
There are two broadly accepted definitions of genuine leather. Firstly, it can be used (or abused) as a catchall term for any leather product that contains traces of animal skin. There is no universal system for categorising leather. Regulations vary enormously from one country to another, and the lack of consensus about what constitutes genuine leather makes it an ambiguous label.
This vagueness poses problems for consumers. You might be tempted, for example, to buy a genuine leather wallet from a vendor on your summer trip to Tuscany. The wallet is costly and attractive in appearance, but the 'genuine leather' stamp offers no real insight into its quality. It could easily have been reconstituted from layers of inferior left-overs — and offer no lasting durability as a result. Sure, you could initiate a conversation with the seller and ask about the leather or the tannery in which it was manufactured, but this is a rare luxury.
Onto the next definition. In recent years, genuine leather has also become a byword for 'split leather' or 'corrected-grain leather'. More on this in the next section, but split leather is essentially the worst cut of leather available, irrespective of which animal the hide comes from. Due to its inferior quality, split leather is also the cheapest.
Disclaimer: while the genuine leather tag is increasingly associated with lower-quality leather, there are always exceptions. Some premium artisan brands still embrace the genuine leather stamp. To avoid confusion, we recommend you always do your research; lookout for information about the cut and grade of the leather, this will help you to determine its quality.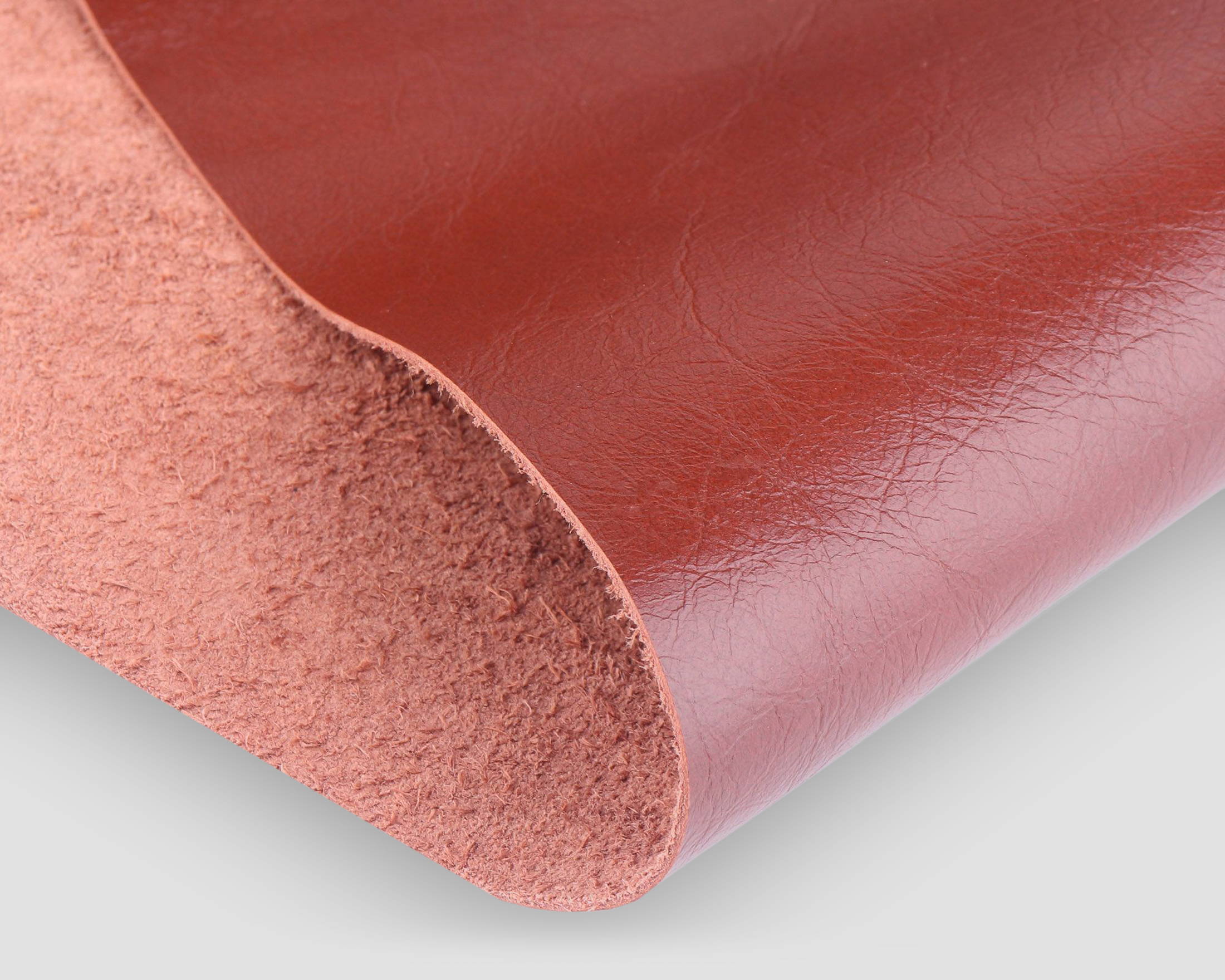 Explaining different grades of leather
When an animal hide arrives at a tannery it is generally too thick for its future purpose. To maximise its usability, the hide is split cross-sectionally into two thinner sections by an imaginatively named machine called a splitter. After the process is finished, the upper (outer) layer is referred to as full-grain leather; the other (lower) layer is considered split leather.
Full-grain leather is regarded as superior for two key reasons. Firstly, it represents the toughest and most durable part of the hide, with tightly knitted fibres to protect against abrasion and the elements. Tiny pores allow this layer of the skin to 'breathe', which is why full-grain leather products develop a patina over time. The second reason is visual appeal. Every piece of full-grain leather is natural in appearance with distinct character, while split leather is soft and velour-like.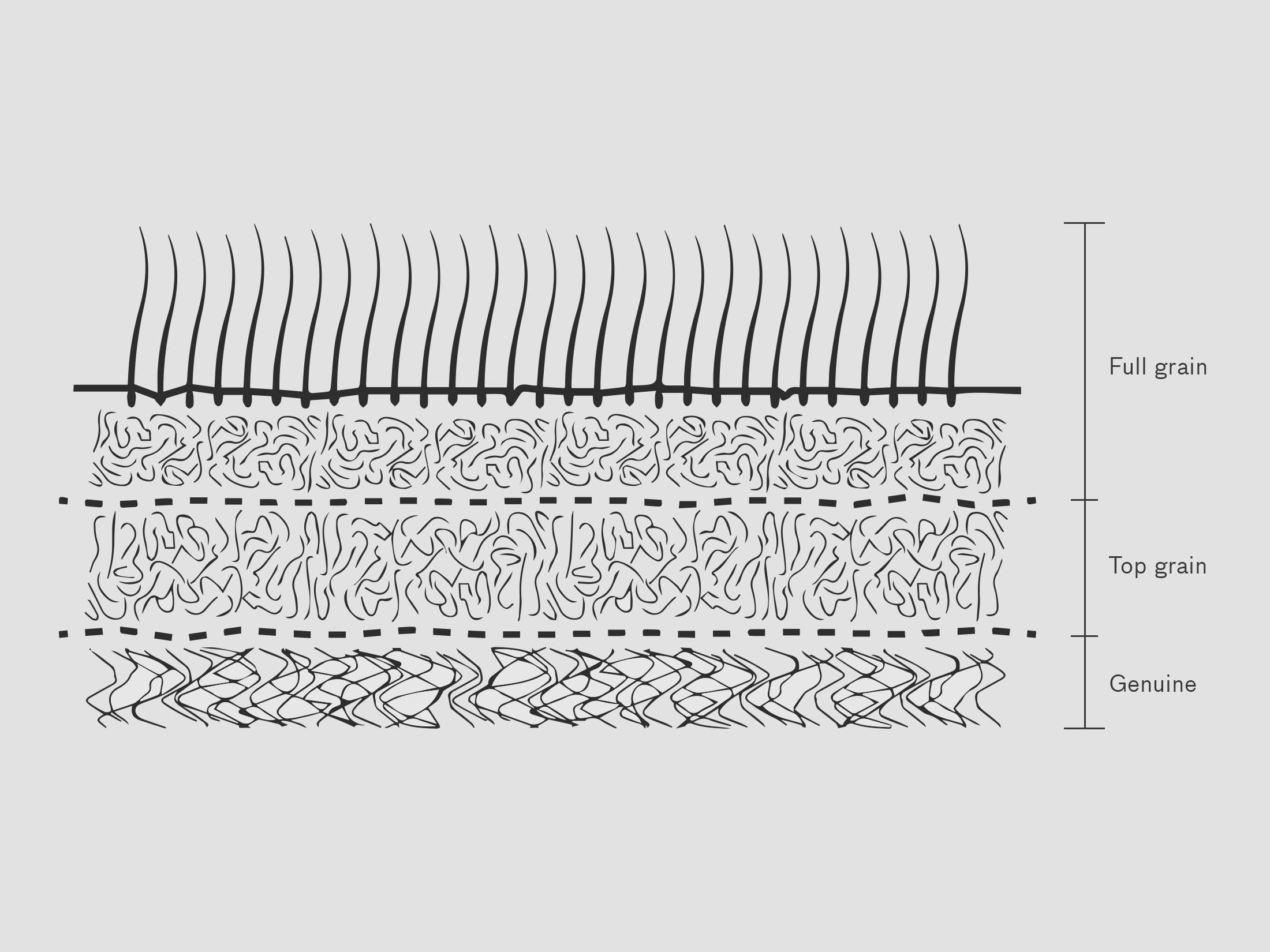 Diagram highlighting the layers of an animal hide
At Carl Friedrik, we use full-grain, vegetable-tanned leather in all our products. This type of leather is renowned for its natural finish, durability and butter-soft texture. The vegetable tanning process is also the most environmentally friendly way to produce leather, using only natural tannins, found in trees, fruits and plants, to alter the hide.
It's worth noting that full-grain leather can be further refined to produce top-grain leather: another high-quality grade. Part of the allure of full-grain leather lies in the imperfections (after all, the bites, scars and wrinkles are what make each piece unique) however, the natural look is not suitable for all leather products. By sanding away said imperfections, tanneries create a smooth and uniform material. The resultant top-grain leather, as it is known, is favoured by luxury brands for its pristine appearance and overall quality.
Full-grain, vegetable-tanned leather
Table comparing full grain vs genuine leather
| | | |
| --- | --- | --- |
| | Genuine Leather | Full Grain Leather |
| | | Long-lasting (up to a lifetime) |
| | | |
| | Soft and velour-like in raw state, but appearance varies depending on finishing treatments | Unique, natural look, blemishes & imperfections visible |
| | Weak, thin, prone to peeling, stretching and cracking | Patina development, smooth surface, strong, supple and flexible |
| | Cheap, low-quality leather goods, upholstery and linings | Bags, wallets, belts, shoes, heavy-duty items like utility belts |
| | | |
Characteristics of genuine leather
In the vast majority of cases, it's fair to assume that genuine leather is in fact composed of split leather. Consequently, it lags far behind full-grain and top-grain leather from a durability perspective.
As aforementioned, the outer layer is the strongest part of the hide, protecting livestock from harsh weather conditions and unwanted intruders like ticks and flies. But genuine leather is generally sourced from an interior section of the hide that lacks a tight fibre structure. This has a major bearing on the material's robustness. A genuine leather purse might last 1-3 years if used daily; one constructed of a higher grade of leather, and regularly treated, could last a lifetime.
Genuine leather not only lacks resilience but is also less flexible and supple. Tanneries can temporarily counter these issues with chemical coatings, but stretch marks are prone to develop with time. In addition, genuine leather is often relatively thin; this trait gives it a certain versatility but also encourages peeling and cracking. And due to a lack of breathability, a genuine leather jacket is never a great option for a humid day.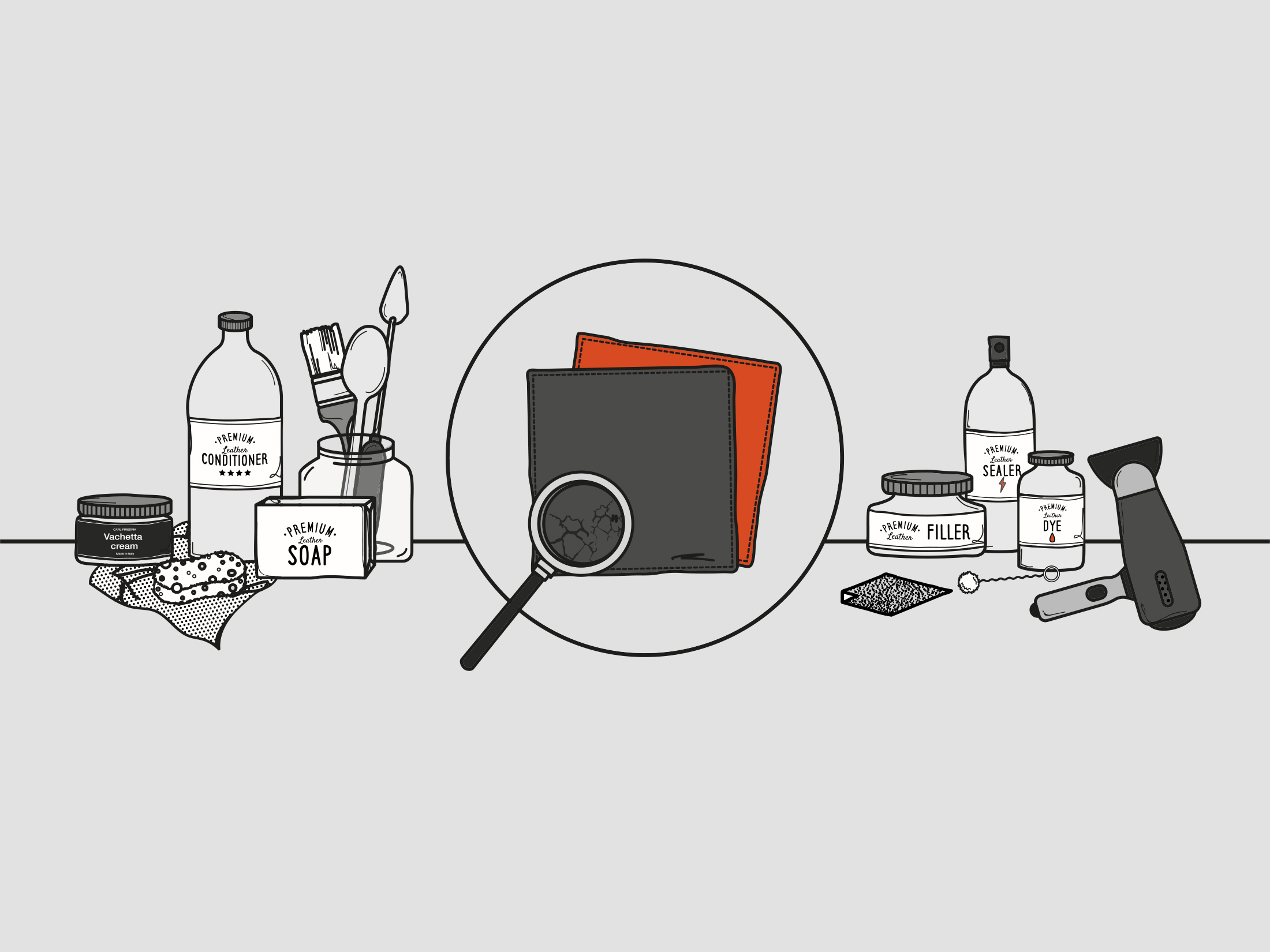 Uses of genuine leather
There is a constant global demand for low-quality, mass-produced leather products. Manufacturers of these items — including belts, bags, wallets, shoes and clothes — favour genuine leather because it is a cost-effective and adaptable material.
By applying finishing treatments, dyes and embossing the exterior to imitate a full-grain leather-like texture, producers add a veneer of quality to genuine leather goods. This is particularly prevalent with high-street fashion accessories, where consumers want to embrace the classic leather look without investing in a premium item.
Because split leather is thinner than other grades of leather, it is commonly used to produce linings, coverings and upholstery. In fact, after the initial splitting process, split leather will regularly be divided into further layers, mainly between 0.5-0.8 millimetres (mm).
Genuine leather sofa upholstery
How to care for genuine leather
One advantage of genuine leather is that it requires far less care and maintenance than other grades of leather. Every time excess dust or dirt builds up, or you spill a liquid on your item, you can merely wipe it down with a damp cloth. This simple routine will keep the product looking healthier for longer, although it will not dramatically affect the shelf life.
There is a wide selection of alternative maintenance products available. Conditioners and creams tackle the issues of cracking and peeling, and also have a moisturising quality that prevents leather from drying out. While a leather polish can drastically improve the appearance of a well-worn genuine leather backpack or satchel.
Table comparing top grain vs genuine leather
| | | |
| --- | --- | --- |
| | Genuine Leather | Full Grain Leather |
| | | |
| | | |
| | Soft and velour-like in raw state, but appearance varies depending on finishing treatments | Uniform, no imperfections, polished finish |
| | Weak, thin, prone to peeling, stretching and cracking | Plastic-like texture, soft, no patina development, strong |
| | Cheap, low-quality leather goods, upholstery and linings | Luxury goods like briefcases, handbags, purses and wallets |
| | | |
Takeaway
The world of genuine leather is murky and ambivalent. For while the 'general leather' label once hinted at supreme quality, its appearance now calls into question a product's authenticity and longevity.
We advise you to stay diligent when purchasing genuine leather goods to avoid overspending. Identifying split leather is no easy feat (especially because it is often treated to appear like full-grain leather), so always ask a sales representative for further information. Of course — as long as you are aware of the limitations — opting for, say, a genuine leather belt also has advantages, especially if the price is right.
But a full-grain or top-grain leather belt will redeem its elevated price tag by outlasting a cheaper alternative and being a joy to use for years to come.