Every year, as your long-awaited holiday etches ever closer, attention must inevitably turn to an irritating and often time-consuming task: suitcase packing.
A calculated approach to this task is crucial because the consequences of packing poorly are well-documented: liquids spilling onto valuables, creased shirts and suitcases that simply refuse to shut.
We don't want any of the above outcomes to spoil your holiday — so we've decided to tackle one of modern travel's most pressing questions: how to pack a suitcase efficiently?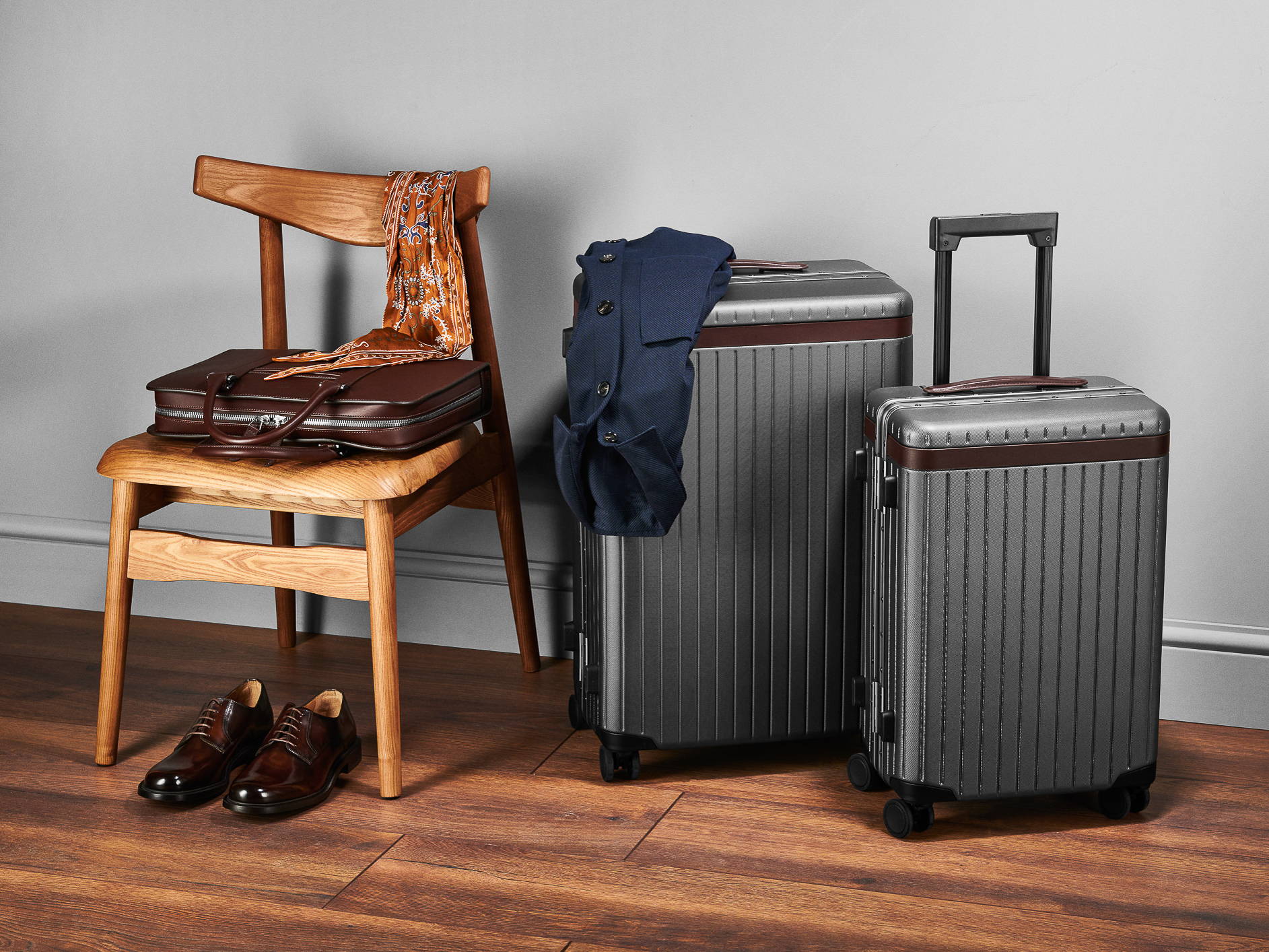 Before suitcase packing can begin
It's a few days before your summer holiday and you can almost taste that first cocktail by the pool. But first falls the unwelcome job of packing. While it is tempting to find the closest piece of luggage and quickly fill it with your entire summer wardrobe (thereby bringing a prompt end to the process), a hastily packed suitcase is not the way to go.
First there's the question of soft vs hard-shell suitcases. The former option tends to be lighter, more flexible (allowing you to pack more than you bargained for) and features useful external pockets. While hard-shell suitcases generally have greater durability and are better qualified to protect valuables. The decision is ultimately yours.
Once you have located an appropriate suitcase, it's time to create a travel packing list. Preparation is key, so it helps to make an extensive catalogue of potential holiday items and then minimise your load by cutting ruthlessly.
For self-confessed overpackers — 62% of Americans according to a 2019 study — this step presents a challenge. We believe the secret to becoming a light packer is the 54321 method. For a weeklong holiday, that means you'll need: five shirts and/or T-shirts, four pairs of trousers, three accessories (think hats, belts and sunglasses), two pairs of shoes and one pair of swimming trunks. Add in socks and underwear, and that's the core of your packing complete. A little tip: the key to making a success of the 54321 mantra is to select flexible clothing items that can easily be mixed and matched.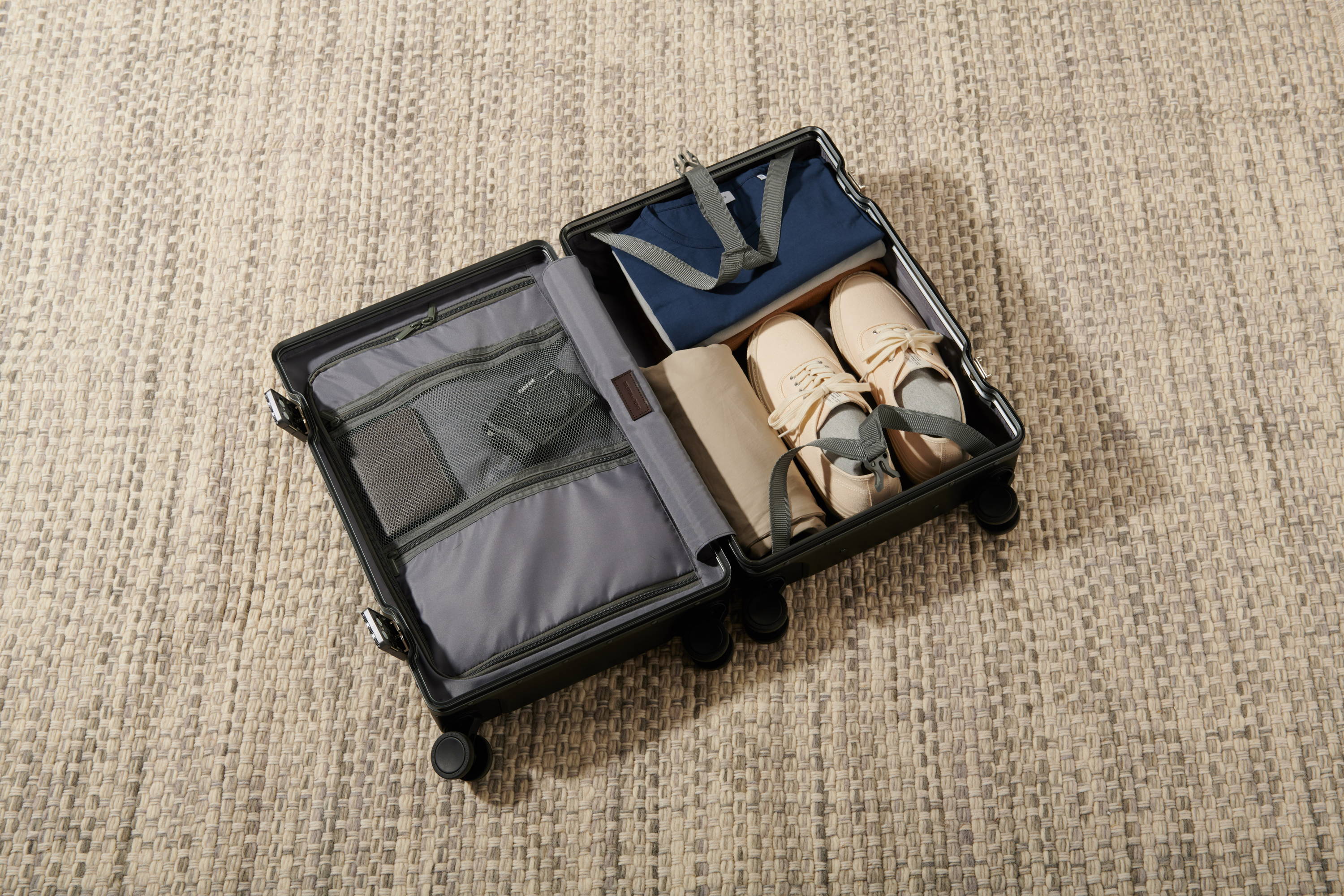 Travel packing tips
Utilise every inch of space
It goes without saying that when packing a suitcase, every nook and cranny is a storage opportunity. Depending on whether they are clean or not, the interiors of your shoes represent an ideal compartment to hold smaller items, like sunglasses, chargers or socks. And for those who enjoy a leisurely holiday read in the sun, it's advisable to store books down the sides of suitcases. That way they remain upright and streamlined, and help to protect other items in your case.
Make use of suitcase packing cubes
Packing cubes are the ultimate clothing storage solution. By compressing and categorising items, they save copious amounts of space and bring organisation to any suitcase: a utilitarian dream.
Carl Friedrik's set of four Packing Cubes come in varying sizes to cater for shoes, shirts, socks and ties. Ever had to unpack your entire suitcase just to find a specific item of clothing? Never again. And because the cubes are conveniently shaped, they can easily be stacked on top of one another for efficient storage. A final benefit of packing cubes is that they pack clothes tightly together, preventing them from moving around while in transit and becoming creased.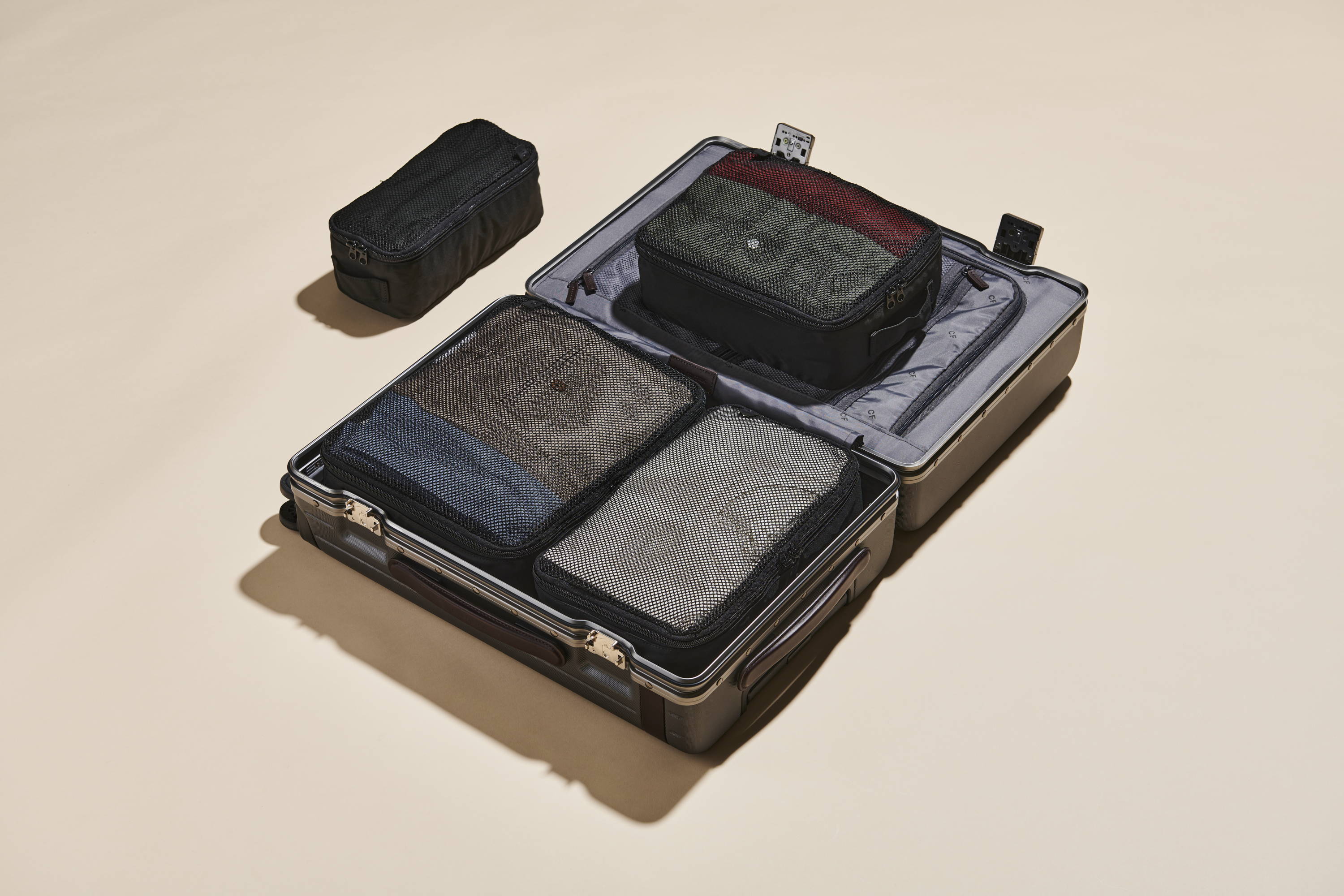 Roll and fold clothes
To roll, or to fold? A polarising debate in the world of suitcase storage. While folding is the default option, the likes of Marie Kondo, Netflix's tidying expert, have clearly highlighted the advantages of rolling. To answer the question posed above, it's probably best to incorporate a combination of both methods.
Folding is certainly a fast and easy way to store garments. It's what we're most familiar with, and it works particularly well for structured, stiffer clothes, such as denim trousers and shirts, but not so well for softer garments. Additionally, folding leaves small gaps in your suitcase, meaning space is used less efficiently.
In contrast, rolling is the best option if space optimisation — and Tetris-inspired fun — is the target, as you will fit more into your suitcase. Another benefit is that you can see the entire contents of the suitcase at any time because items are not stacked on top of each other — helpful if you need to quickly access something while travelling. While rolling is great at keeping softer garments wrinkle-free, stiffer fabrics (blazers, skirt, stretched cotton shirts) should always be folded.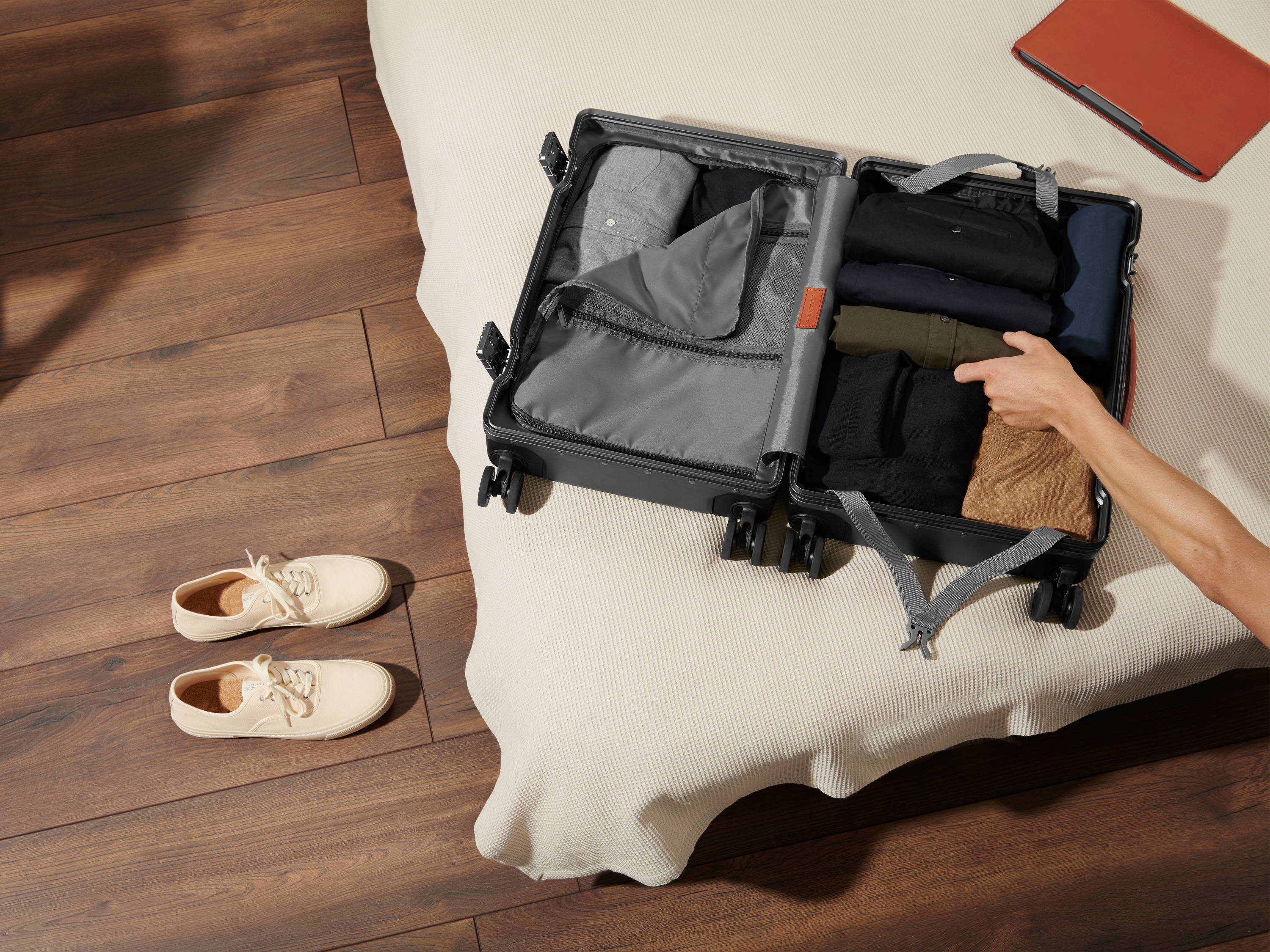 The shirt collar hack
Whether made using linen or cotton, worn casually in the day or in a sophisticated evening setting, the shirt is a staple part of any man's holiday wardrobe. Unfortunately, many of us are all too familiar with the sight of squashed collars when we remove our favourite shirts from our luggage.
There is, however, a practical solution to the issue. By rolling up a belt and placing it in your shirt collar, it acts as a makeshift stiffener — keeping the collar rigid and secure throughout the journey.
The correct way to pack a suitcase
Now you've decided on an appropriate suitcase, established a trip packing checklist and brushed up on some useful tips, it's time for some compact suitcase packing.
Start by rolling your softer items up (T-shirts, shorts) and laying them at the base of the suitcase. Now for a slight change of tactic. Fold your longest and heaviest items (trousers, jumpers) and carefully stack them across the surface area of your suitcase, covering fully the rolled items below. Should you be taking any valuable or fragile items (laptops, tablets) on holiday, it's best to put them in now, as they will be well protected within this layer.
The remaining shorter clothing items can then be folded and placed on top. Thinking ahead to your arrival, it's also wise to arrange the clothes or accessories you'll need first at the top: a hat for the sun, or a jumper if you're arriving at night, for example.
Ideally, shoes should be placed in resealable bags and positioned by the sides of the suitcase, preventing them from coming into contact with other possessions. Toiletries must always be kept in a separate Dopp bag, eliminating the chance of leakages. And leaving a touch of room during the outbound journey for souvenirs is definitely best practice.
Ultimately, the most efficient way to pack a suitcase will vary depending on the contents, size of the suitcase and nature of the journey. But this section is a good reference point for every time you start packing.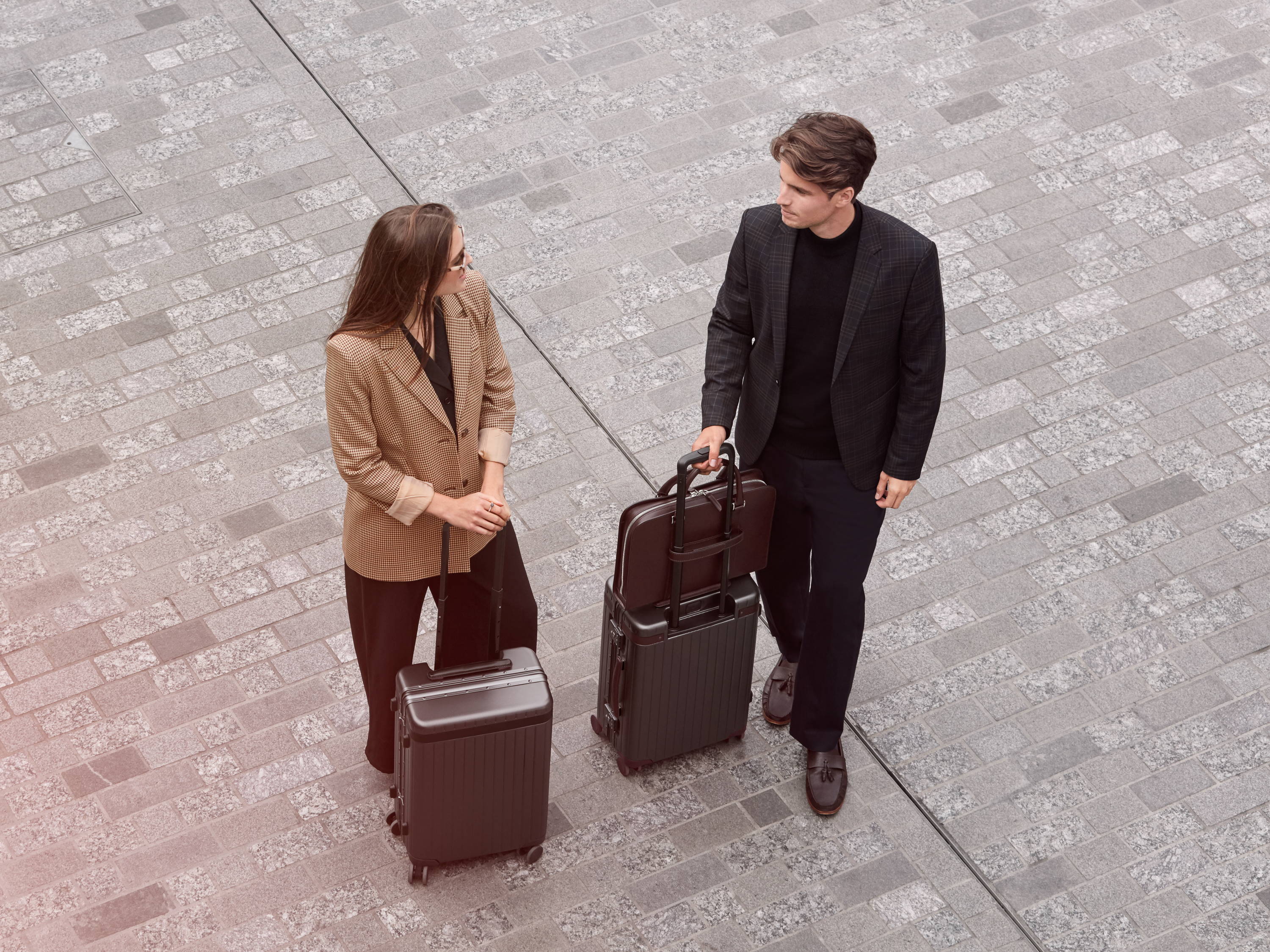 How to pack a suit in a suitcase
Packing a suitcase doesn't mean impending rest and relaxation for all of us. For those who regularly get sent out on business trips, suitcases and packing are features of day-to-day life. That doesn't mean that stowing away bulky and wrinkle-prone suits gets any easier. While creases can be ironed or steamed out, it's hardly the extra work you need after a long day crunching numbers with clients.
Objectively speaking, the best way to pack a suit is to use a suit carrier. Once inserted in the carrier, take the bottom of the suit jacket and fold it up, so that it rests over the lapel. Then carefully lay it at the top of your suitcase. Expect a crease-free journey.
For those packing without the luxury of a suit carrier, there is another (wrinkle-free) suit packing method we recommended:
Start by picking up your suit jacket and turning both shoulders inside out (do not pull the entire sleeve inside out, just the shoulders).
Fold the suit jacket in half so that the lapels are touching.
Fold in half again and pack at the top of the suitcase.
Once you have arrived, turn the shoulders back the right way and get ready for business.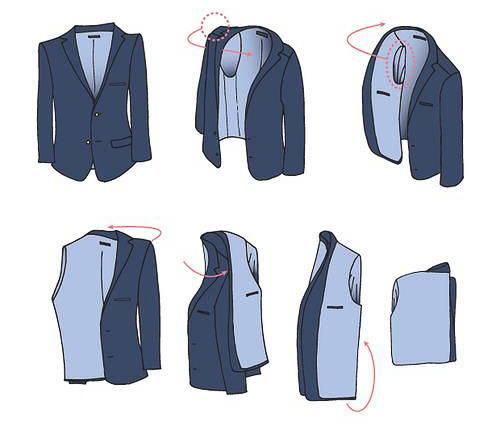 Summary
Efficient suitcase packing is an art form that takes careful planning and practice. Moving forward, try and incorporate some of the tips referenced in this packing guide, and don't be afraid to branch out with your research: there are plenty more handy tricks out there.
And with the short staycation sure to be back in vogue this summer, why not check out our guide on packing for a weekend trip.