How has international travel been affected by the pandemic? We've surveyed Carl Friedrik customers, analysed Google Trends data and conducted wider research in a bid to answer this question. In particular, this article focuses on changing patterns of business travel and recent signs of optimism surrounding international travel, including Carl Friedrik's rising 2021 luggage sales. Read on to find out more.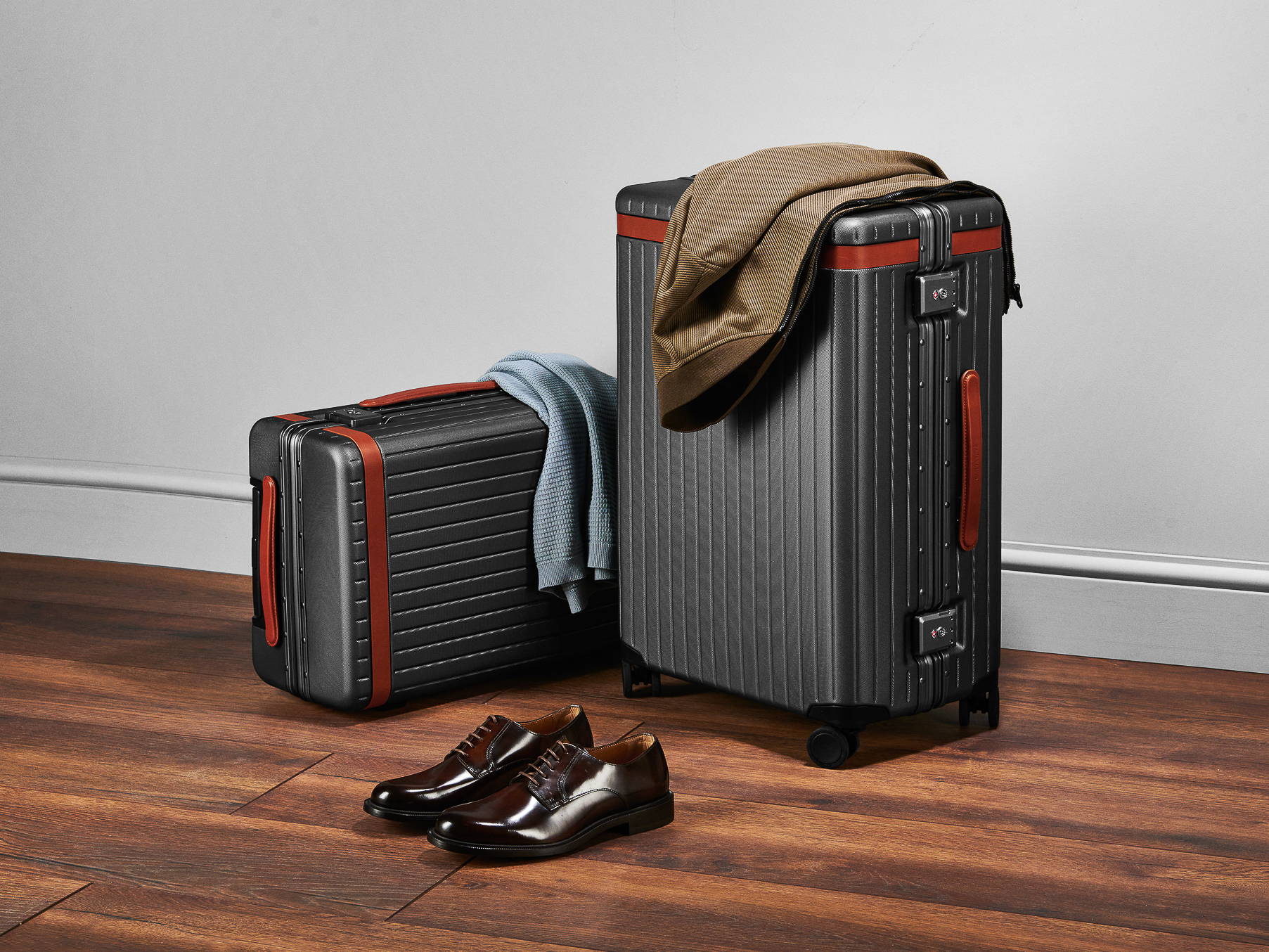 The pandemic strikes
The years preceding the Covid-19 pandemic saw international travel thrive in an increasingly globalised and interconnected world. In 2019 alone there were 1.4 billion tourist arrivals, a 48% rise from 2010 (Statista).
Google Trends offers further insight into this phenomenon by charting user behaviour patterns. Data shows that searches for 'suitcases' peaked in June 2019. While searches for the global travel & tourism operator, TUI, reached a high point in January 2020.
Optimism around international travel dampened soon after the novel coronavirus (SARS-Cov-2) was first identified in Wuhan, China in late 2019. Governments responded by closing international borders in a bid to prevent further transmission. As a result, monthly air passenger arrivals plummeted across the globe, including a staggering 98.3% fall from February to April 2020 in the UK (The Guardian).
With less people travelling abroad, whether for leisure or business, demand for Carl Friedrik luggage fell dramatically. Sales decreased by over 80% in the first half of 2020 compared to the previous half-year.
Growing luggage sales at Carl Friedrik
After a significant decline in the first year of the pandemic, sales of Carl Friedrik's luggage have rebounded strongly throughout 2021, comfortably surpassing pre-pandemic levels. Since January, they have grown by an average of 30% each month, and are now 300% higher than the same period in 2020. The forecasted boost in demand for international travel in the coming months should help to proliferate sales.
Interestingly, the healthy demand for Carl Friedrik luggage is not entirely concurrent with wider industry and macroeconomic trends. Google Trends highlights that searches in July 2021 for the term 'luggage' are at a meagre 24% of the June 2017 peak volume.
A closer inspection of market-leading luggage brands tells a similar story. Searches for 'Rimowa' and 'American Tourister' are at 35% and 31% of their respective peaks. It appears, then, that the overall market is recovering at a slower rate than Carl Friedrik.
One explanation for this is that Carl Friedrik's customers are more frequent travellers (for business and travel) than the general population. And as the brand operates in the luxury space, it's also plausible that customers are less restrained by the financial implications of travel during the pandemic, such as paying for Covid-19 tests.
Business travel
The business trip represents one aspect of professional life pressured by Covid-19. In a recent survey of Carl Friedrik customers, we found that 44% of respondents travelled for business at least once a quarter prior to the pandemic. Surprisingly, this level remained largely constant throughout the pandemic.
Yet more unexpected is that 75% of respondents now plan on undertaking business travel at least once this year, compared to only 63% before the coronavirus epidemic. This despite the 'Zoom Boom' underlining the effectiveness of video-conferencing tools, corporate pledges to reduce carbon emissions and the cost benefits associated with reduced business travel.
One explanation for this is a backlog of face-to-face meetings — a medium through which many firms prefer to meet prospective clients and conduct business.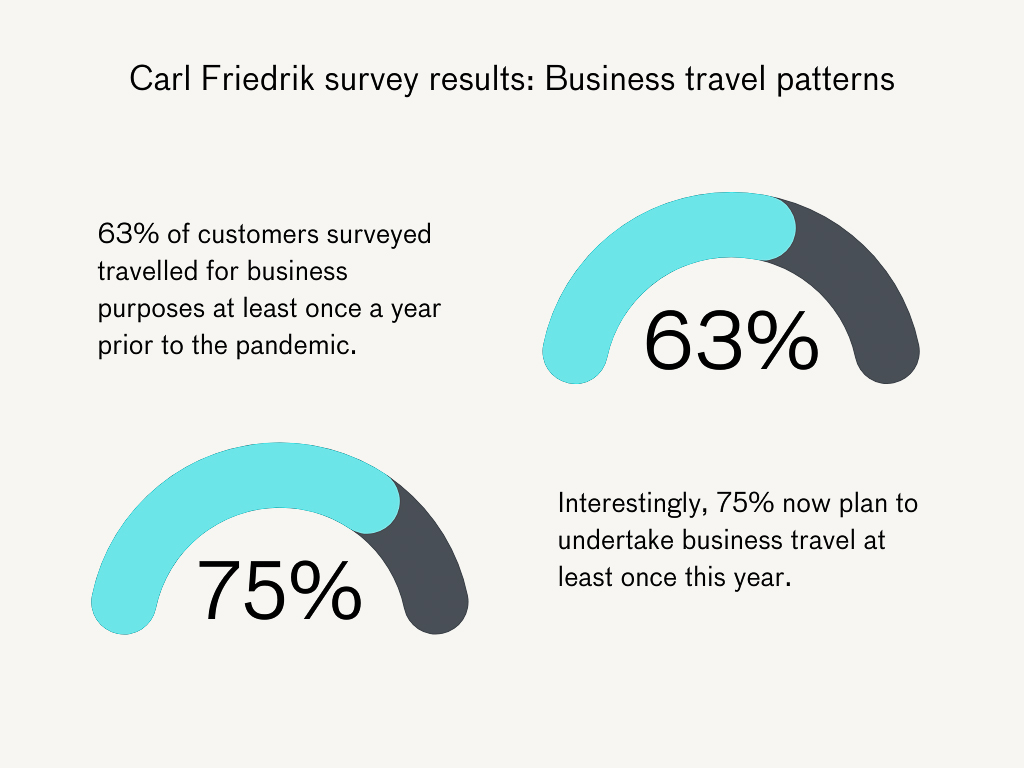 Carl Friedrik will soon release a new suitcase — The Pocket Carry-on — tailored towards the needs of frequent business travellers. It features a large external pocket that offers easy access to travel documents and electrical devices; ideal for those who work while on the move, whether that's in the airport lounge or on a flight.
The Pocket Carry-on is fitted with silent 360° Japanese Hinomoto wheels, helping users to glide seamlessly through the airport. While the aluminium frame is both hard-wearing and equipped with TSA-approved locks for maximum security. Sign-up to get notified when The Pocket Carry-on is released.
Signs of buoyancy
Our survey hinted at other positive signs for the future of international travel. 60% of respondents have, or plan to, travel during the 2021 summer months, double the amount from last year.
A considerable proportion, more than 80% of Carl Friedrik customers polled, also plan to purchase travel-related goods in the next three months. The most referenced item was a suitcase, followed by toiletries, clothing and a briefcase.
The success of immunisation programmes and the relaxation of travel restrictions by tourism and commercial hubs, like the UK, France and Ireland, will continue to benefit the cross-border flow of people and goods. Moreover, pent-up demand for leisure travel should soon reach a bursting point, with people eager to make up for lost time, spending lavishly after the stress of living through the pandemic.
Conclusion
Based on our research, it seems sensible to expect a gradual resurgence in corporate and leisure travel throughout 2021 and beyond. It is also likely that international travel falls amongst certain socioeconomic groups, as new costs — including paying for Covid-19 tests — make it less affordable for some.