A common adage amongst watch enthusiasts is that new straps can reinvigorate a timepiece's appearance and make it a more flexible accessory. The act of changing your straps is also an aesthetic statement that reflects individual style. But before the excitement of perusing NATO, Perlon or Milanese watch straps can begin, you'll need to establish your watch strap size – and that's where our guide enters the equation.
Why, you might be wondering, are watch strap sizes so important?
1. Compatibility. There is no universal 'one size fits all' solution when it comes to pairing straps with watches. If you own an extra large sports watch, you'll require a replacement strap with different measurements to, say, a vintage wristwatch with a far smaller case.
2. Fit. In our experience, a timepiece should be tight enough not to slide more than an inch across your arm and loose enough not to leave an imprint.
3. Style. Although choosing a strap is essentially a matter of personal preference, there are a few fundamental and timeless truths; a large wrist is – proportionally speaking – better suited to a wider strap, for example.
Two essential dimensions to consider when calculating watch strap size are: strap width and strap length. Tapering – when a strap gradually narrows in width as it reaches the ends – also deserves your attention.
Let's make a start below:
Watch strap width
Every watch is fitted with two pairs of lugs (see image below), pincer-like attachments that are used to secure the strap to the watch case. They play a crucial role in the ergonomics of any watch, ensuring comfort, security and durability.
The fixed distance between the two lugs is referred to as the 'lug width', or strap width, and is measured in millimetres (mm). Lug width varies from timepiece-to-timepiece, but the distance is typically in the region of 18–26mm, with 20mm being the most common size for men's watches.
It's crucial to know your watch's lug width when shopping for a new strap. It determines how wide the replacement strap should be in order for it to properly fit your wristwatch.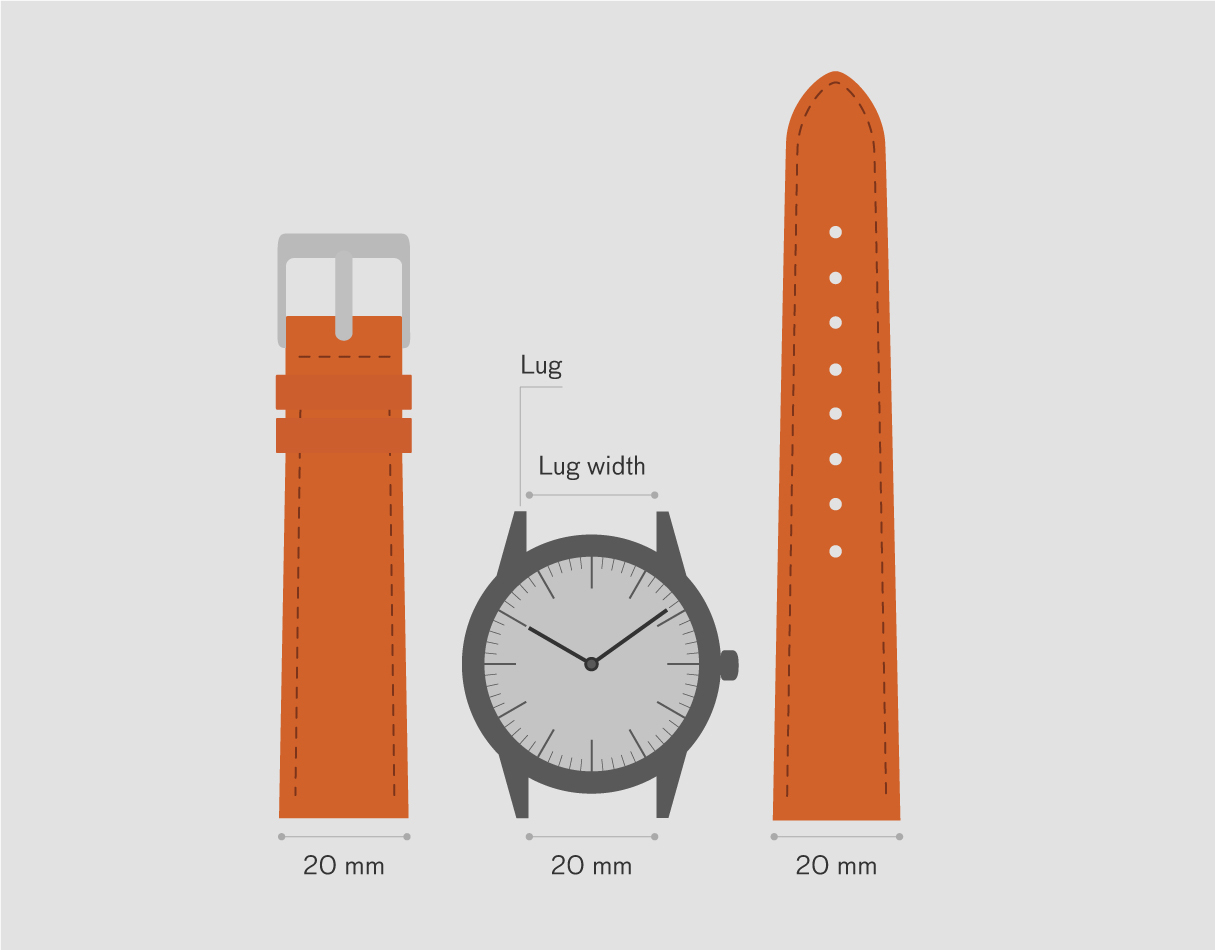 How do I calculate the right strap width for my watch?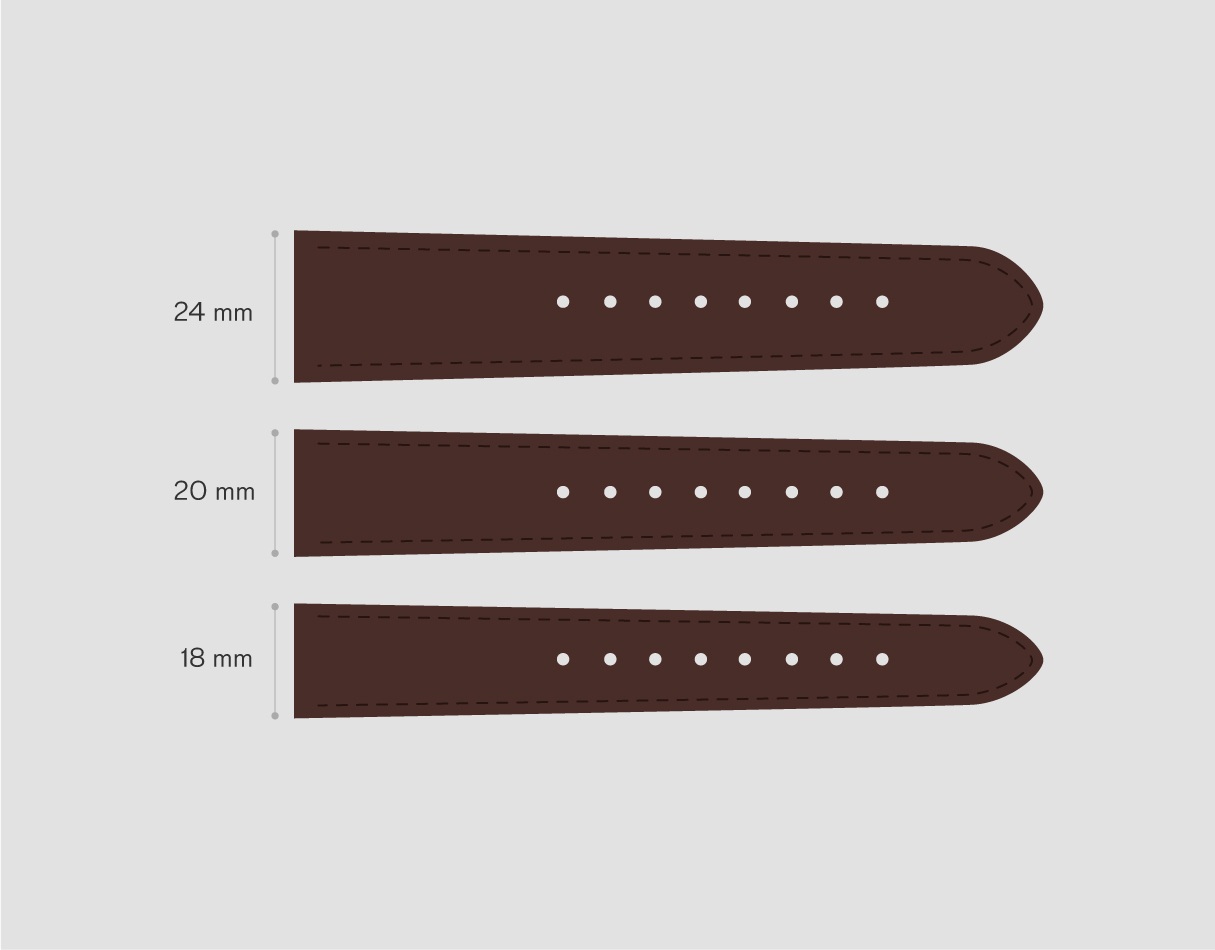 Those who own a leather strap could be in luck – some have an imprinted number on the reverse side lining which indicates the lug width. For example, a stamp reading '22' reveals that the lug width is 22mm.
Straps made from other materials – such as stainless steel, titanium and nylon – are unlikely to be imprinted with size-related information. But rest assured, calculating lug width is still an uncomplicated task.
You'll need to start by removing the current straps from your watch. We recommend using a spring bar tool (although some modern leather straps are constructed with quick-release tabs, where you can manually push down the lever to release the straps). After you have located the ridged 'shoulder' of your spring bar, insert the forked end of the tool, apply pressure and the strap should simply fall off.
Now you should be left with just the watch case. Simply measure the internal distance between the two lugs on your watch case using a ruler, or for extra precision, a digital calliper. Make sure to take your reading in millimetres.
Below is a chart highlighting the lug widths for a selection of popular watches.
Watch Strap Size chart for popular watches
| | |
| --- | --- |
| Watch Make & Model | Lug Width (mm) |
| | |
| Breitling Navitimer Strap Width | |
| Grand Seiko Snowflake Strap Width | |
| IWC Pilot's Watch Mark XVIII Strap Width | |
| Omega Speedmaster Strap Width | |
| Omega Seamaster Strap Width | |
| Rolex Datejust Strap Width | |
| Rolex Daytona Strap Wdith | |
| Rolex Submariner Strap Width | |
| Tag Heuer Carrera Strap Wdith | |
| Tudor Black Bay Strap Width | |
Watch strap width: style tips
The general consensus is that strap width should be approximately 50% of the watch case's diameter (see chart below).
| | |
| --- | --- |
| Case Diameter (mm) | Strap Width (mm) |
| | |
| | |
| | |
| | |
| | |
Those with slim wrists often favour a strap with a smaller width to achieve visual balance, and vice versa for individuals with thicker wrists.
The nature of the watch will influence the appropriate strap width, as well. A dress watch designed to be worn with formal wear is often paired with a thin and elegant strap. In contrast, a sports watch generally has a thicker, more resilient strap.
Watch strap length
An elegant watch will lose much of its intrinsic appeal if it fails to sit correctly on a wrist. Baggy, ill-fitted timepieces are fashion faux pas – and those that clamp down on skin and inhibit blood circulation are no better.
Wrist circumference differs across individuals, so straps are readily available in a range of lengths. Finding the right length for you is, therefore, a crucial step on the pathway to purchasing a new watch strap.
Strap length is measured in millimetres (mm) and is commonly presented as X/Ymm (e.g. 125/75mm). The first number (X) – which is always larger – is the length of the tail side strap and the second number (Y) is the length of the buckle side strap.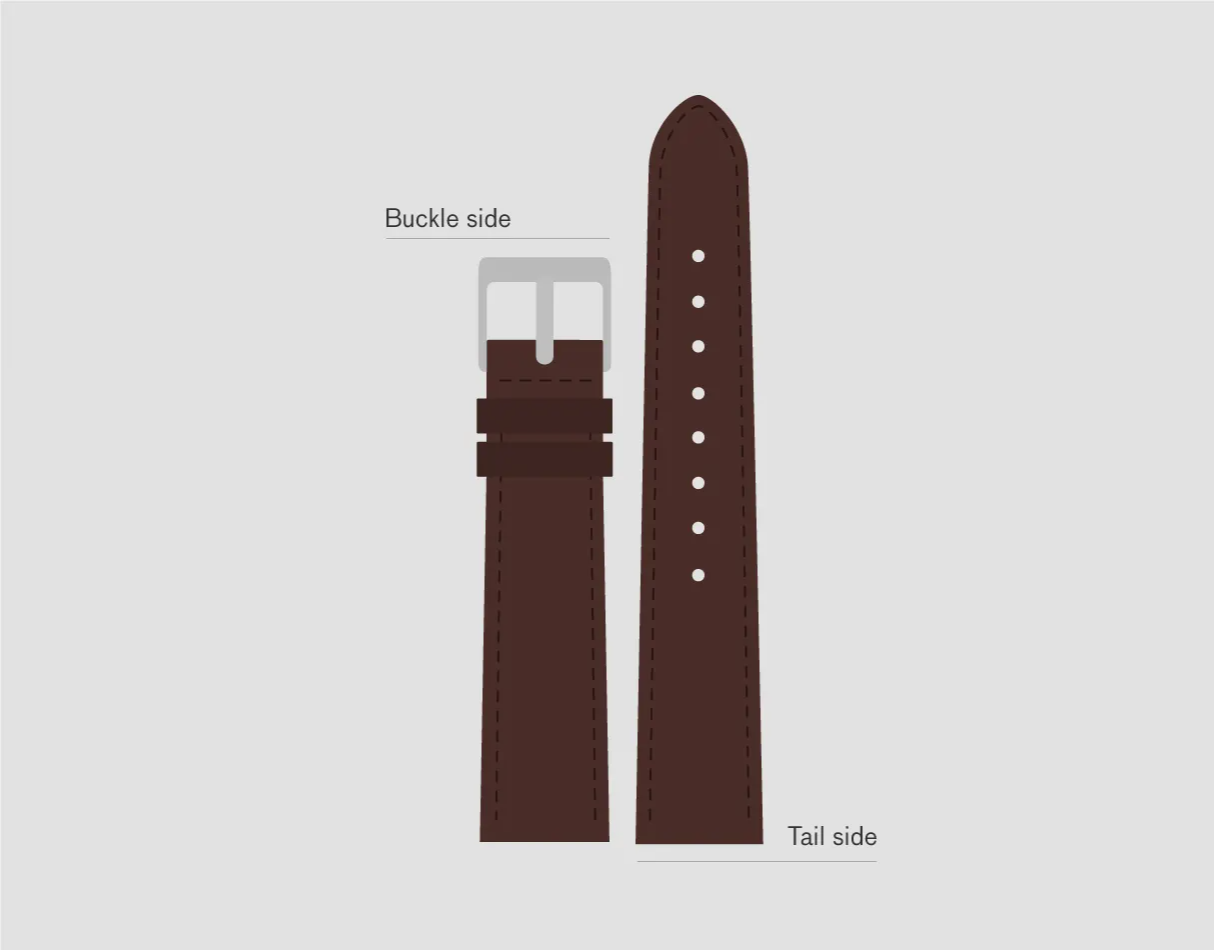 How do I calculate my watch strap length?
1. Measure your current strap
If your existing strap fits comfortably around your wrist, then you've already found a suitable length. All you need to do is measure the tail side and buckle side straps separately using a ruler, remembering to exclude the buckle itself. The two dimensions will highlight the optimal length. You should look for a replacement strap with the same – or failing that, a similar – length.
2. Identify wrist circumference
Determining wrist size is another way to calculate your ideal strap length.
i.) Start by wrapping a soft tape measure around your wrist at the point where you desire your watch case to sit.
ii.) Make a mark where the tape overlaps using a pen or pencil.
iii.) Lay the tape flat and make a mental note of your wrist size. Take the measurement in either millimetres or inches.
With your freshly calculated wrist circumference in mind, reference the Watch Strap Length chart below to find a suggested strap length.
Watch Strap Length chart
| | |
| --- | --- |
| Wrist Circumference | Suggested Strap Length Dimensions |
| | |
| | |
| | |
| | |
| | |
| | |
Watch strap length: style tips
Our table is a great starting point for establishing a desirable strap length, but personal taste will ultimately dictate the final decision.
Adjusting the strap length is one of the main ways that you can customise your timepiece. Ask yourself questions like, "How much tail do I want to show?" And "Where would I like the buckle to rest?" Naturally, the answers to these questions will vary depending on individual taste.
Tapering
A tapered strap is wider at the lugs and narrower at the ends of the straps, often by a difference of 2–4mm. For example, a strap that measures 22/20mm has a lug width of 22mm and a buckle/tail end width of 20mm. It tapers by 2mm. In contrast, a straight strap has a consistent width.
Fans of tapering argue that it produces a sleeker and more refined finish. Tapered straps are also thinner on the underside, which ostensibly improves comfort.
The decision to opt for a straight or tapered strap will be influenced by a few factors, such as case size and attire. Generally, smaller watches have a subtle taper that helps to better accentuate the watch case. However, larger watches tend to be complemented by a straight strap for reasons of proportion and balance.
In respect of clothing, a tapered strap combines particularly well with a formal outfit by adding a touch of finesse.
What is my Apple Watch strap size?
Apple Watch enthusiasts are spoiled for choice when it comes to the range of straps they can pair with their smartwatches. With an option for every occasion, mood and outfit, watch customisation has never been so straightforward.
But owners of the best selling piece of wearable tech on the planet often find themselves asking the same question as analog aficionados: "what is my watch strap size?" To save you the time, we've demystified how Apple Watch strap sizing works below.
The Apple Watch debuted in 2015 and, at the time of writing, there are now seven series. For series 0–3, each model was available in two different case sizes: 38mm and 42mm. All Apple Watch straps were designed to complement one of the two case sizes.
However, from the Fourth Series onwards, Apple shifted course and decided to offer two slightly larger watch cases: a 40mm and 44mm. Despite this increase in size, the lug widths were kept the same. As such, the Apple Watch straps from series 0-3 were still compatible with either the smaller (40mm) or larger (44mm) option in the newer series.
As you can see from the Apple Watch Strap Size chart below, the 38mm and 40mm Apple watches have the same lug width, much like the 42mm and 44mm.
Apple Watch Strap Size chart
| | |
| --- | --- |
| Watch Case & Size | Lug Width (mm) |
| Apple Watch 1st generation 38mm | |
| Apple Watch 1st generation 42mm | |
| Apple Watch Series 1, 2 and 3 38mm | |
| Apple Watch Series 1, 2 and 3 42mm | |
| Apple Watch Series 4, 5 and 6 40mm | |
| Apple Watch Series 4, 5 and 6 44mm | |
| | |
| | |
Our collection of straps are compatible with the two larger Apple Watch case sizes (42mm and 44mm). All you need is an Apple Watch strap adaptor.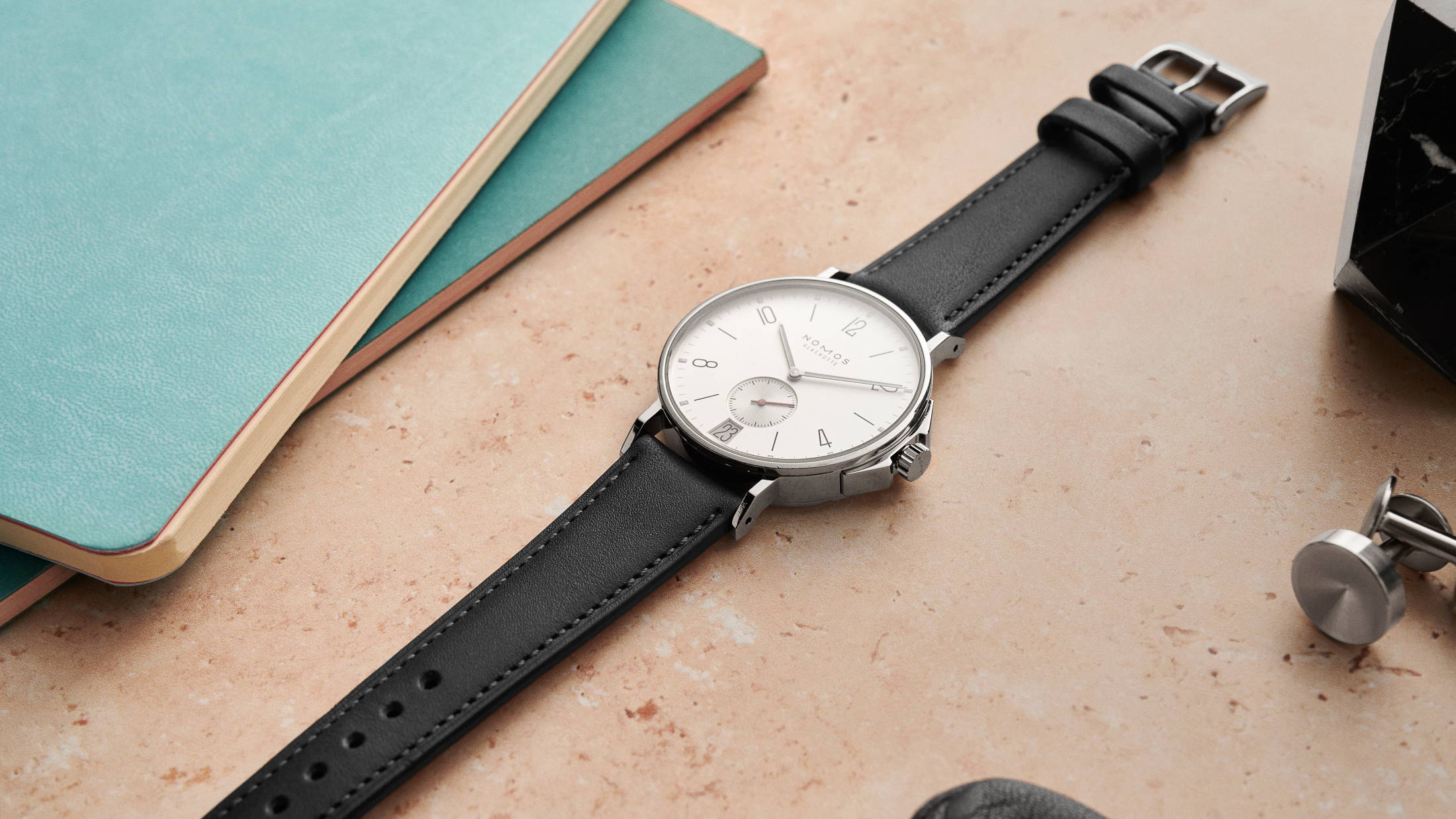 Summary
A new watch strap needs to tick three boxes: it should be the perfect fit for your existing watch, wrist and aesthetic taste.
Hopefully we've helped you out with the two former considerations – and given you the peace of mind to concentrate on the latter.