Bags: from briefcases born out of the Industrial Revolution, to the 'bread bags' of the Great Wars and the 21st century man bag, ever since we've needed to carry our possessions, we've relied on them.
Perhaps more than ever before, men are embracing bags. They are lauded as functional and stylish accessories.
But with so many different types of bags available — and in the knowledge that each could 'make or break' an outfit — the question naturally surfaces: "Why are Carl Friedrik yet to release a men's bag guide?"
Well — we hear you. Keep scrolling to read our comprehensive take on the essential types of bags for men.
Different types of bags for different occasions
| | | | | | |
| --- | --- | --- | --- | --- | --- |
| | Briefcase | Weekend bag | Backpack | Messenger | Tote bag |
| | | | | | |
| | | | | | |
| | | | | | |
| | | | | | |
| | | | | | |
Briefcase
A timeless bag that has continued to evolve over the centuries. The name 'briefcase' stems from lawyers who used the receptacle to carry their legal briefs in to court.
It has since become a symbol of power and economics, immortalised by Wall Street bankers and Britain's Chancellor of the Exchequer, who carries documents in a red briefcase on Budget day.
Although designs vary (more on that below), a briefcase is essentially a rectangular container equipped with a handle, usually made with leather.
There are two main variations of the traditional briefcase. One version is defined by its box-like appearance, is open and shut using clasps and has a hard exterior. The other is soft-shelled, closed via a metal buckle on the front and features a flap.
The modern briefcase is an infinitely more versatile accessory, with features such as shoulder straps, all-round zippers and separate interior compartments to store items. It retains the functionality of the original, but refuses to compromise on style.
In the past few decades, laptops and other electronic devices have rapidly replaced written documents, hence the need for a bag that safely stores the most precious of items, as well as related paraphernalia like chargers and headphones. Although often manufactured using black nylon, a laptop bag made with leather is, in effect, a variation of the modern briefcase.
The briefcase is the obvious choice for making a statement in a professional setting. Suave and refined, pair it with an elegant suit and you're onto a winning combination.
Duffel vs weekend bag
Duffel is a historical Belgian town reputed for producing sturdy canvas cloth — the material used to manufacture the early duffel bag in the 17th century.
The duffel as we know it today was popularised by the soldiers and sailors of WWII. They
stored their supplies and personal belongings in military issued duffel bags, favoured for their durability and spaciousness. Once the armed forces returned home, the civilian population came into contact with the duffel, and it became more widespread.
A typical duffel bag has a fabric — often canvas — exterior and is closed using a drawstring or zipper. Large, soft-sided and carried over the shoulder, it has a tube-like appearance. Consider it a casual option, perfect for stuffing your gym wear or sports apparel into.
The elegant weekend bag is a modern iteration of the duffel with a self-explanatory purpose: to hold a weekend's worth of belongings (and to look good while doing so). Whether that's for a business trip, wedding or city break, it's the essential getaway companion.
A practical weekend bag should be sizeable, yet compact enough to fit into an overhead compartment on an airplane. Typical materials include leather and canvas, with synthetic polyester favoured for the interior lining.
Contemporary versions generally incorporate two handles and a shoulder-strap, providing a certain versatility when it comes to carrying. While interior and exterior pockets allow you to stow away your possessions in an orderly manner.
Backpack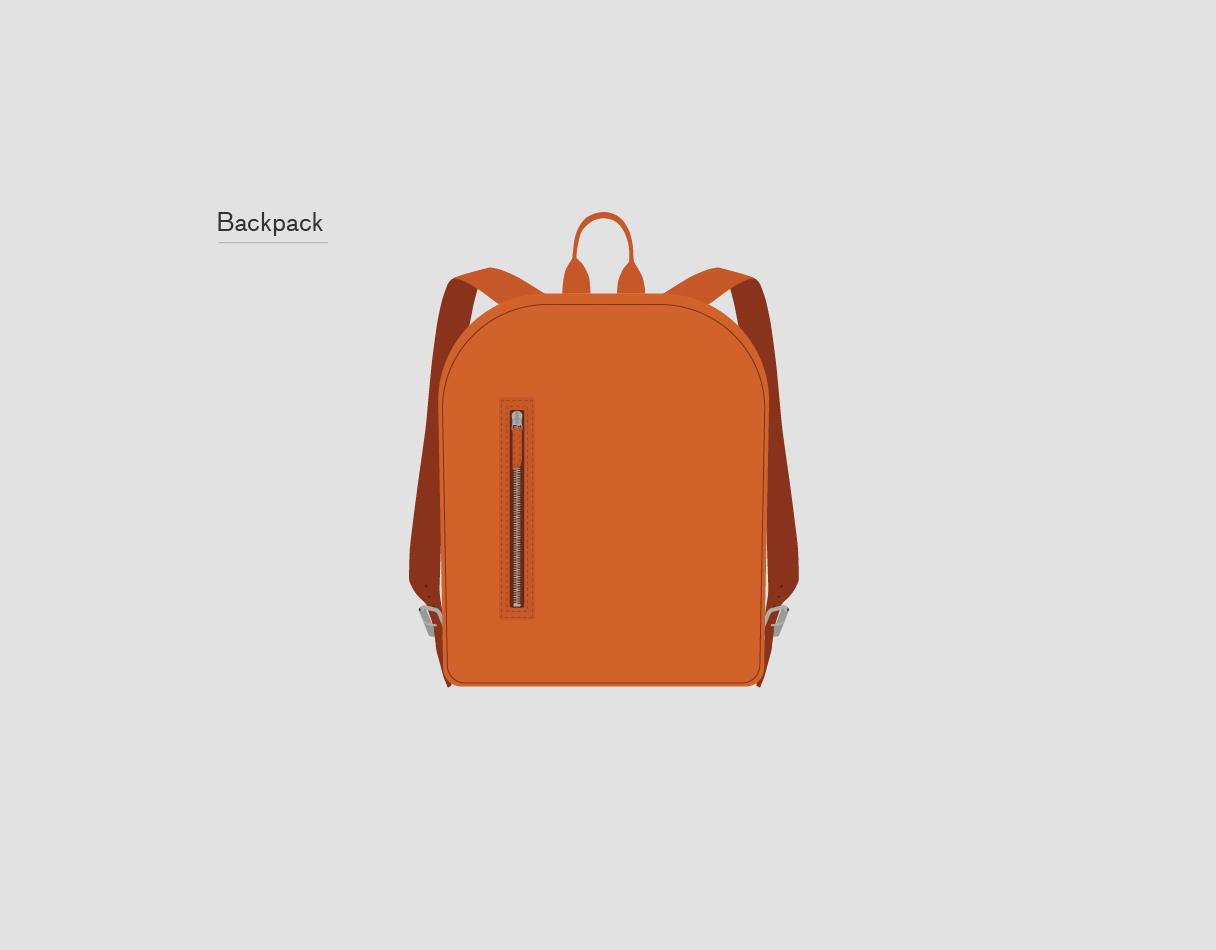 No guide to the best bags for men would be complete without mentioning the humble backpack: synonymous with anything from carefree school days to the stress-inducing morning commute.
It began circulating at the turn of the 20th century and was predominantly used
by outdoorsmen. But in 1967 the first modern nylon backpack hit the market, paving the way for the mass consumption of backpacks.
Aside from the obvious advantage of keeping your hands free, backpacks also distribute weight evenly across your body, which reduces physical strain. Because they store your essential everyday carry, backpacks are normally waterproof and contain a selection of item-specific storage sections.
In recent years different types of backpacks, including the zipped and flap backpack have been elevated to the world of haute couture. Comfortable padded straps are still essential, but there is now an increased emphasis on visual appeal and expensive materials (think high-quality leather).
Opinions are divided on whether the backpack is suitable for the office. Some are sternly against it, while others point to it as a practical and — at times — smart solution for the white-collar professional.
A key point of contention is wearing a backpack with a suit. Combining a casual, or worse, sporty backpack with a formal outfit is fashion faux pas. But an elegantly designed backpack can actually enhance your office attire. If you do take the plunge, remember not to overload your backpack and only wear it for short periods of time. This should prevent your suit jacket's shoulders from becoming disfigured.
In essence, the allure of the backpack lies in its versatility — from outdoor use to being one of the best bags for commuting to work — and the fact that it is comfortable to carry.
Satchel vs messenger bag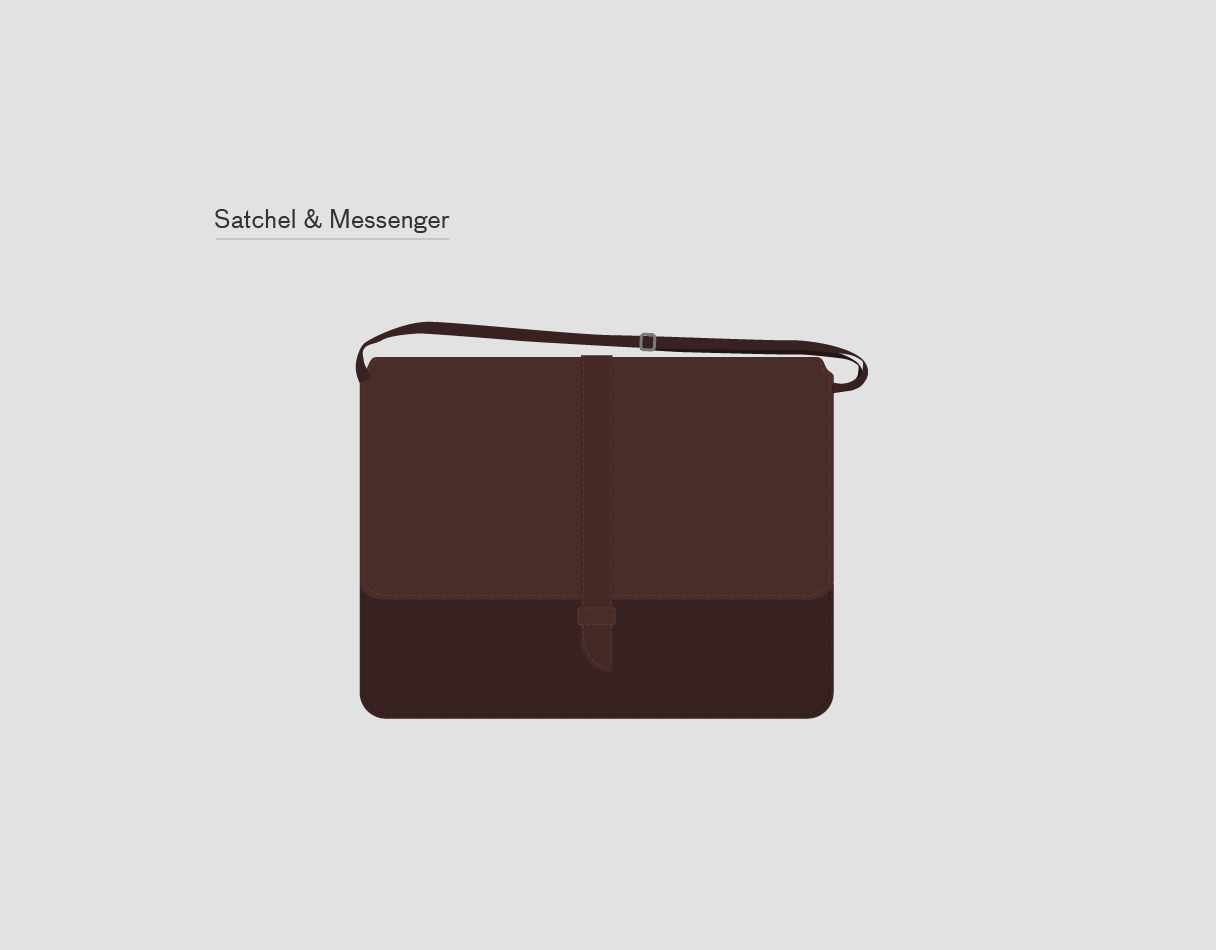 You could be forgiven for thinking that the messenger bag and satchel are the same bag. Both are worn cross-body, available in a range of hardwearing materials — from leather to waxed cotton and canvas — and timeless in design. Yet crucial differences exist between the two.
Start with origins. The messenger bag is an American invention, first used by horse-mounted mail deliverers in the 19th century and later by masses of postal workers and couriers (hence the name).
The satchel predates the messenger by millennia and was traditionally used to carry books — whether by monks and scholars in antiquity, or European schoolboys in the Middle Ages.
While both are designed to be worn on the shoulder, satchels rest on the hip and have a lengthier strap to accommodate for this. Messenger bags are intended to sit against the lower back and consequently use shorter straps. They can easily be swivelled to the front should you need to access something.
Modern prototypes of each bag incorporate zippers, front flaps and buckles. Shoulder straps are padded to maximise comfort and there are usually plenty of pockets to store daily essentials.
Due to their design, messenger bags are particularly well-suited for cyclists and carrying office paraphernalia. A satchel could equally be used for your daily commute, and is also handy for trips to the local coffee house or bookstore. That said, an elegant messenger bag or satchel could just as easily be a status symbol.
Tote bag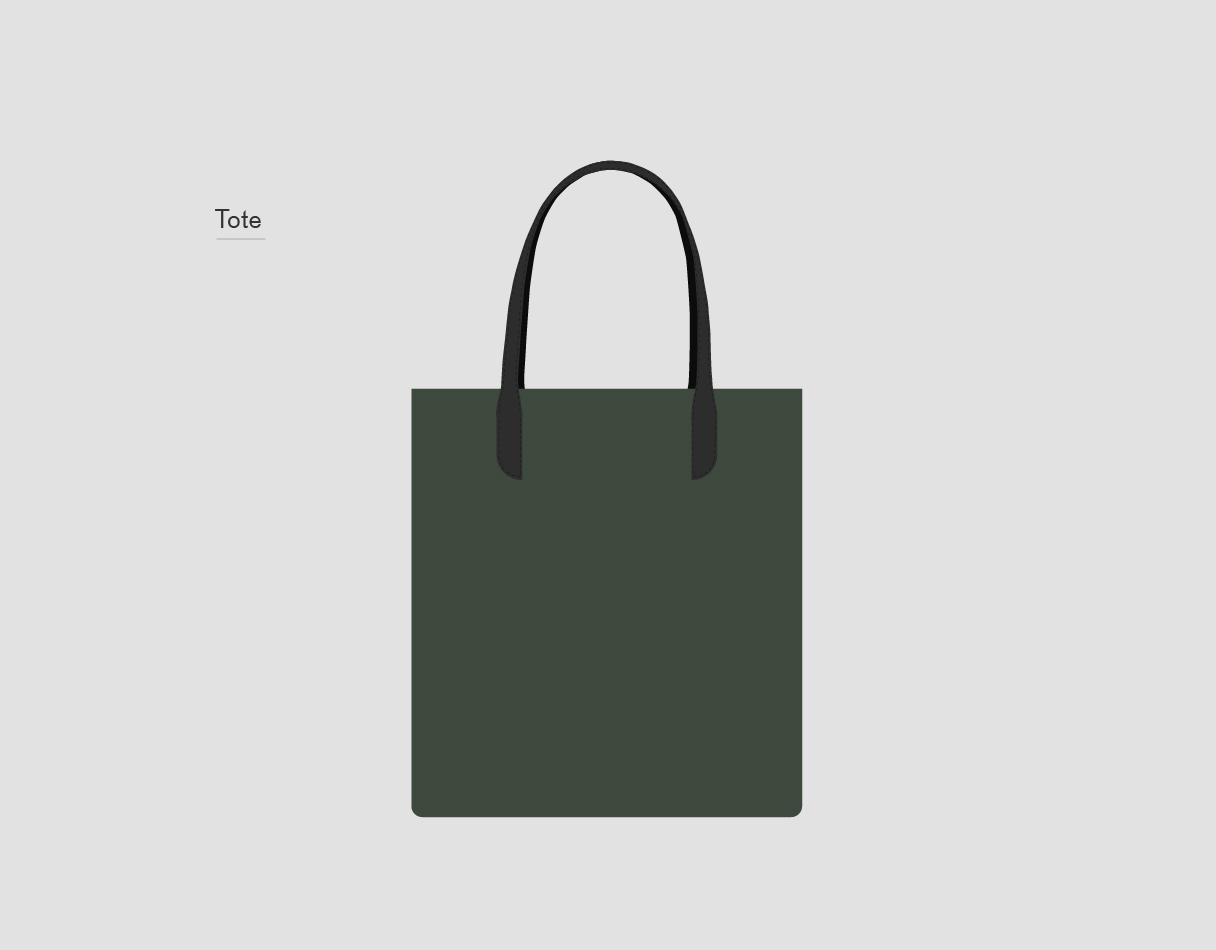 A tote bag has two long, parallel handles, so it can be carried either by hand or rested on the shoulder. It is commonly produced using cotton or linen.
It became a mainstream bag in American society of the 1950s, well-suited for light shopping trips. The verb 'tote' actually means 'to carry'.
Now a permanent feature of the urban landscape, the fabric tote bag is revered as an ethical replacement for plastic bags and a stylish accessory — often printed with political messages or pop culture symbols.
Simple in design and unfussy, most tote bags only have one compartment, eschewing order in favour of easy access. As a general rule, the tote bag is a casual option, but leather and nylon totes are beginning to challenge this view.
As a lightweight but relatively strong bag, the tote is best employed for light shopping trips, strolls around town and — if you're fortunate enough to live by the coast — visits to the beach. The major downside is that tote bags don't close tight and are rarely waterproof, so your possessions are generally at the mercy of the weather.
Man bag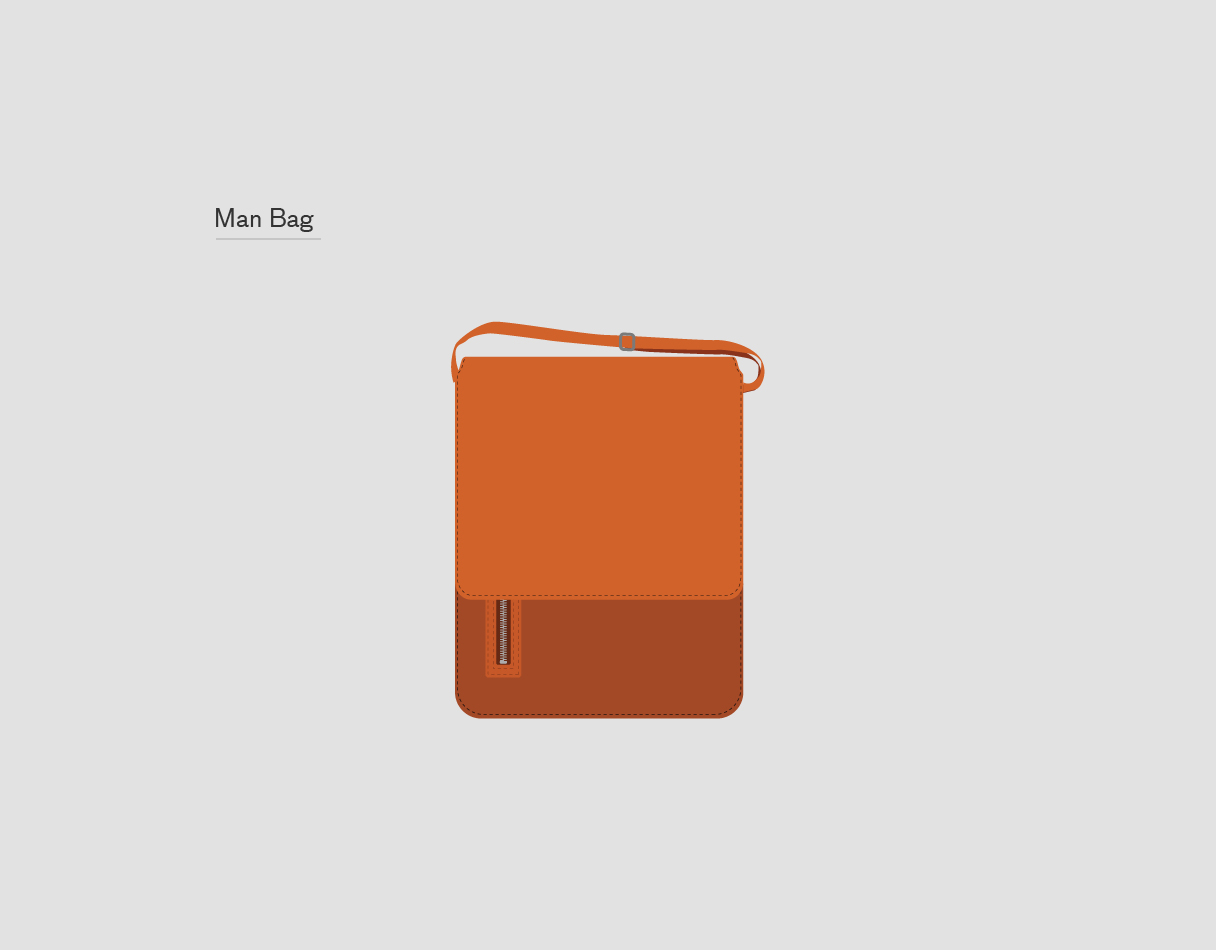 The man bag: it fits only the essential essentials: phone, keys, wallet, maybe your headphones, anything else is likely to be a squeeze.
One of the smallest types of bag in our guide, the man bag (some prefer manbag) or 'man purse', makes use of a cross-body strap and is designed to rest either by your side or back. Think of it as a miniature satchel (or messenger bag).
Ultra-lightweight and loose-fitting, the man bag is the ultimate holiday bag, allowing you to quickly reach for your passport, camera or bundle of foreign notes.
While a canvas or nylon man bag matches a relaxed fit, an understated leather option could easily complement smart-casual evening attire.
Portfolio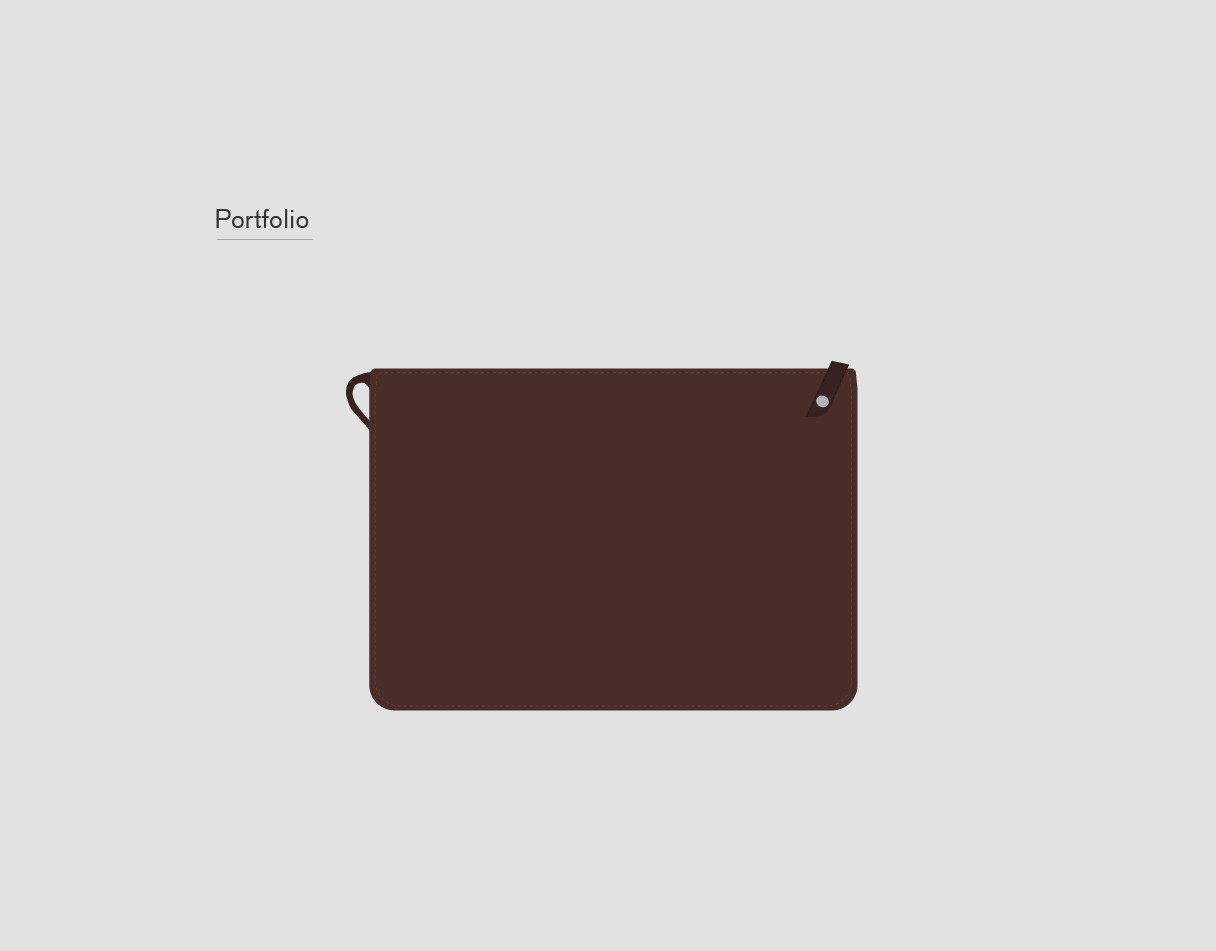 Another relatively small option, a portfolio should tuck effortlessly under your arm, and be used to transport important documents, small laptops and tablets.
Rectangular in shape, a portfolio has no handles or straps, and is opened using either a zipper or a fold over flap. Certain types will feature pen holders, padding to protect your electronic devices and internal pockets.
An elegant addition to any modern professional's wardrobe, the portfolio is an emblem of sophistication. It is most useful for bringing reports and other documents to meetings, but you can wear it with pride in both business and personal settings: making it a truly stylish bag for men.
Types of bags for men and their characteristics
| | | | | | |
| --- | --- | --- | --- | --- | --- |
| | Briefcase | Weekend bag | Backpack | Messenger | Tote bag |
| | | | | | |
| | | | | | |
| | | | | | |
Notable mentions
Also known as a 'fanny pack' or 'moon bag', the waist bag was in vogue during the athleisure craze of the 1980s. After a notable dip in popularity, it has enjoyed a resurgence in recent years, with multiple high-fashion brands releasing their take on the waist bag.
Worn around the body or waist, it is essentially a single pouch secured with a zipper. You'll fit no more than a few small valuables inside of one. Much like the man bag, the waist bag prioritises easy access. The trade off is that they are limited in size and notoriously unstylish.
The bowling bag was popular with — you guessed it — bowling players in the 1990s. Like a few others in this guide to stylish bags for men, it was quickly appropriated by luxury fashion brands.
Today's bowling bags have two handles and are opened using a zipper. They come in an array of shapes and sizes, offering similar qualities to the weekend bag.
Purchase considerations
Size
Don't skip straight to thinking about aesthetics, size is arguably the most crucial consideration. To roughly calculate the dimensions you'll require, start by visualising what will be stored inside of your bag.
Phone and wallet? Look no further than the man bag. Taking public transport to work with your laptop, charger and a lunch box? A backpack is the perfect hands-free fit for navigating the terrain. Regularly jet abroad on business trips, or enjoy the odd city break? Then it's a tussle between the weekend bag or duffel — opt for the former if you like to travel in style.
Colour
Our advice would be to stick with neutral colours because they can be paired with almost anything. Shades of brown and black, in particular, offer the greatest versatility when matching bags with your wardrobe.
As a general rule, stay away from bright and vibrant colourways, especially in a professional setting. After all, the understated elegance of a portfolio or briefcase is part of its intrinsic appeal.
Materials
It goes without saying that the right material for your bag should be both stylish and durable. Leather is a great choice if you want a refined feel. Premium vegetable-tanned leather has an attractive natural look and actually becomes more resilient over time. And luckily there is a wide selection of leather bags for men available.
A lot of bags are also manufactured using fabrics, like cotton or synthetic canvas. Cotton offers a more natural look, but both are hardwearing. You should also know that synthetic canvas is easier to maintain.
Hardware
Clasps, zippers, buckles and bag feet: apart from the tote bag, every bag in this guide incorporates at least one of these components. But the unsung hero of bag manufacturing often goes unnoticed.
Buckles and clasps can add ornamental value to a bag, but they are predominantly functional features, and should be sturdy as a result. As you're probably aware, there's nothing as inconvenient as a broken zipper; so, look out for smooth flowing zippers (such as Raccagni) that are able to withstand a fair amount of pressure. Lastly, ensure that bag feet are always firmly attached — you don't want your bag falling over every time you place it down.
Summary
A quality bag is an essential that all men should own. There's a plethora of options available — but now you should be able to distinguish between the main types of bags for men and weigh-up their respective pros and cons. All of which means one thing: you're one tentative step closer to locating your ideal bag.