Wallets: they're an integral part of any man's everyday carry — stylish, practical accessories that store our cash, cards and ID documents.

The rise of the digital wallet has certainly shifted attention away from physical wallets. But — and you can call us traditionalists — we are firm believers in the real thing. For an expertly crafted and suave wallet is something to be treasured for years.
There are many different types of wallets for men available on the market, and it's important to know the subtle distinctions before you choose one.
So if you're looking for more information on different types of leather wallets or the age-old debate of bifold vs trifold, then you've come to the right place.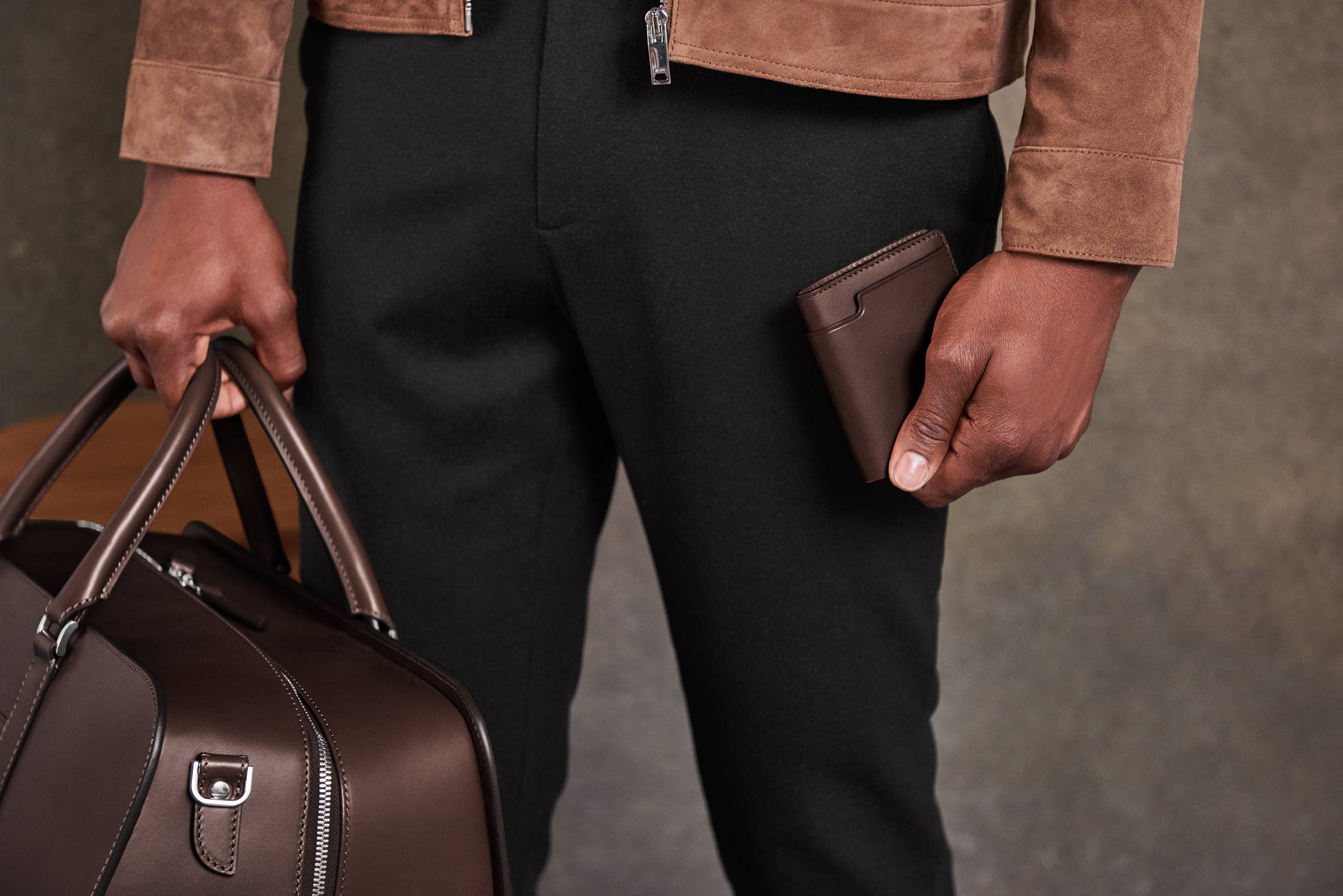 What type of wallet should I get?
There's a host of factors to contemplate before you settle on a particular wallet style. We'll briefly consider the main ones below.
Start with size. Are you a fan of the long or short wallet? A bulk-free option that slides effortlessly into trouser pockets, or a larger model with ample room for your café loyalty cards? The wallet dimensions you decide on will be impacted by answers to questions like these.
Whether or not you carry cash is another thought. Minimalist card holders are perfect for those who prefer to travel light and pay digitally. In contrast, those who swear by cash will require a sizeable wallet to store their notes and coins.
Given that a wallet holds your most valuable items, security is another key concern. There has been a rise in demand for RFID-blocking wallets in recent years to counter the threat of electronic pickpocketing, although how effective they actually are is hotly debated.
For some of us, however, style trumps all else. Given that the right wallet is a symbol of sophistication, you'll want to choose one that reflects your own unique style inclinations.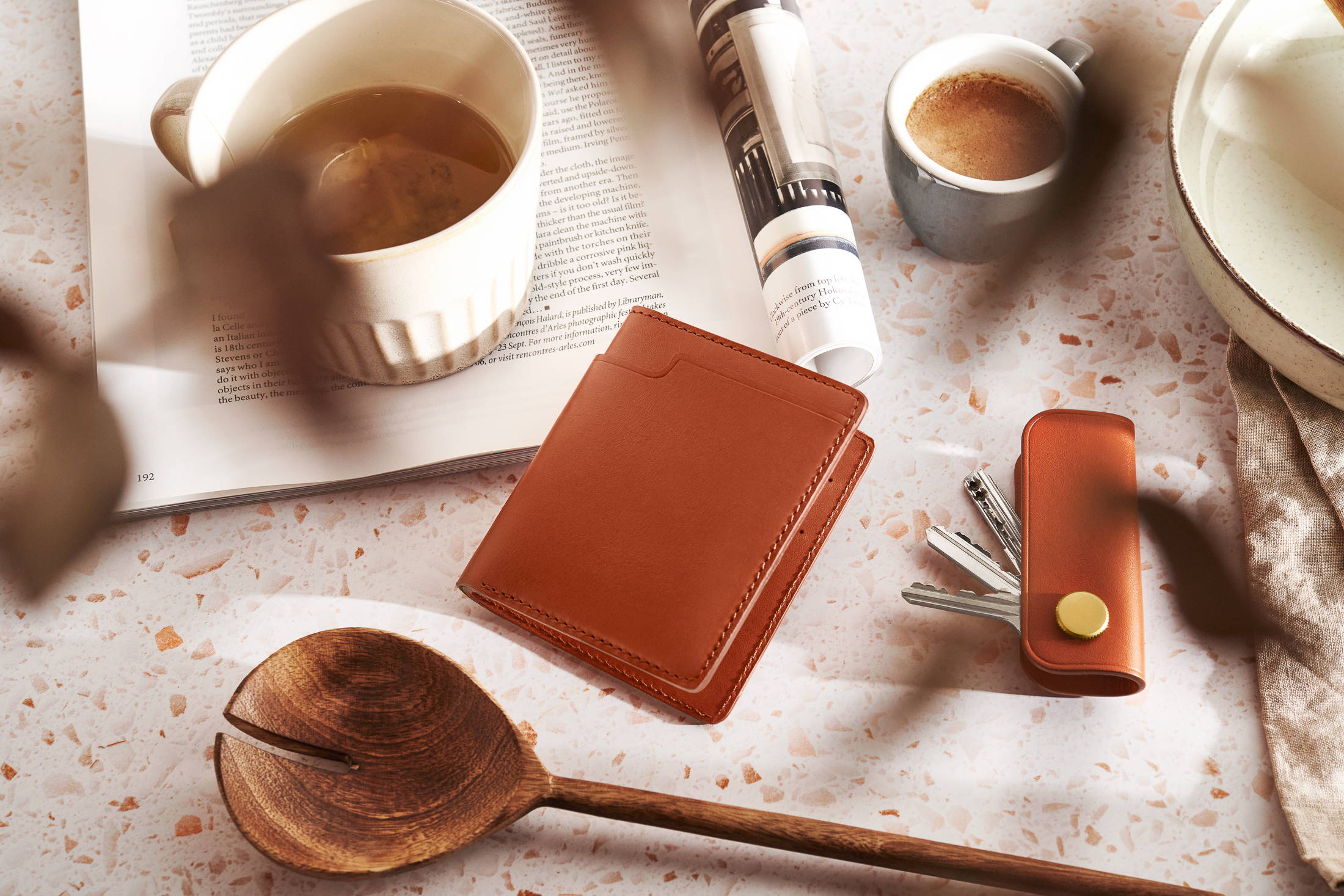 Wallet materials
Leather is by far the most common wallet material, favoured because of its aesthetic appeal and desirable physical properties. Premium leather can easily cope with the demands of everyday use, including frequent skin contact and exposure to the elements; certain products will actually become more durable over time.
From a visual standpoint, select varieties of high-end leather also improve, softening in texture and forming rich patinas — a process celebrated by leather aesthetes. So, the right leather wallet is a sound investment piece that can last for up to a generation and continue to look great.
Fabrics like nylon and canvas are also frequently used in the manufacturing of wallets. These materials offer a more casual, sporty look and a lightweight feel, ideal for those who enjoy an active lifestyle. Another benefit is variety: fabric wallets are available in a plethora of colours and designs, with greater texture and the possibility of logo prints. Part of the reason why they do not enjoy the esteemed status of leather wallets relates to longevity. Fabric models can quickly become worn and damaged, hence the lower price point.
One material steadily carving a niche in the wallet industry is polycarbonate. Lightweight and extremely hardwearing, polycarbonate is now leveraged to create everything from ultra-slim card cases to minimalist money clips. Sleek and industrial in appearance, these wallets represent a far cry from the traditional leather wallet.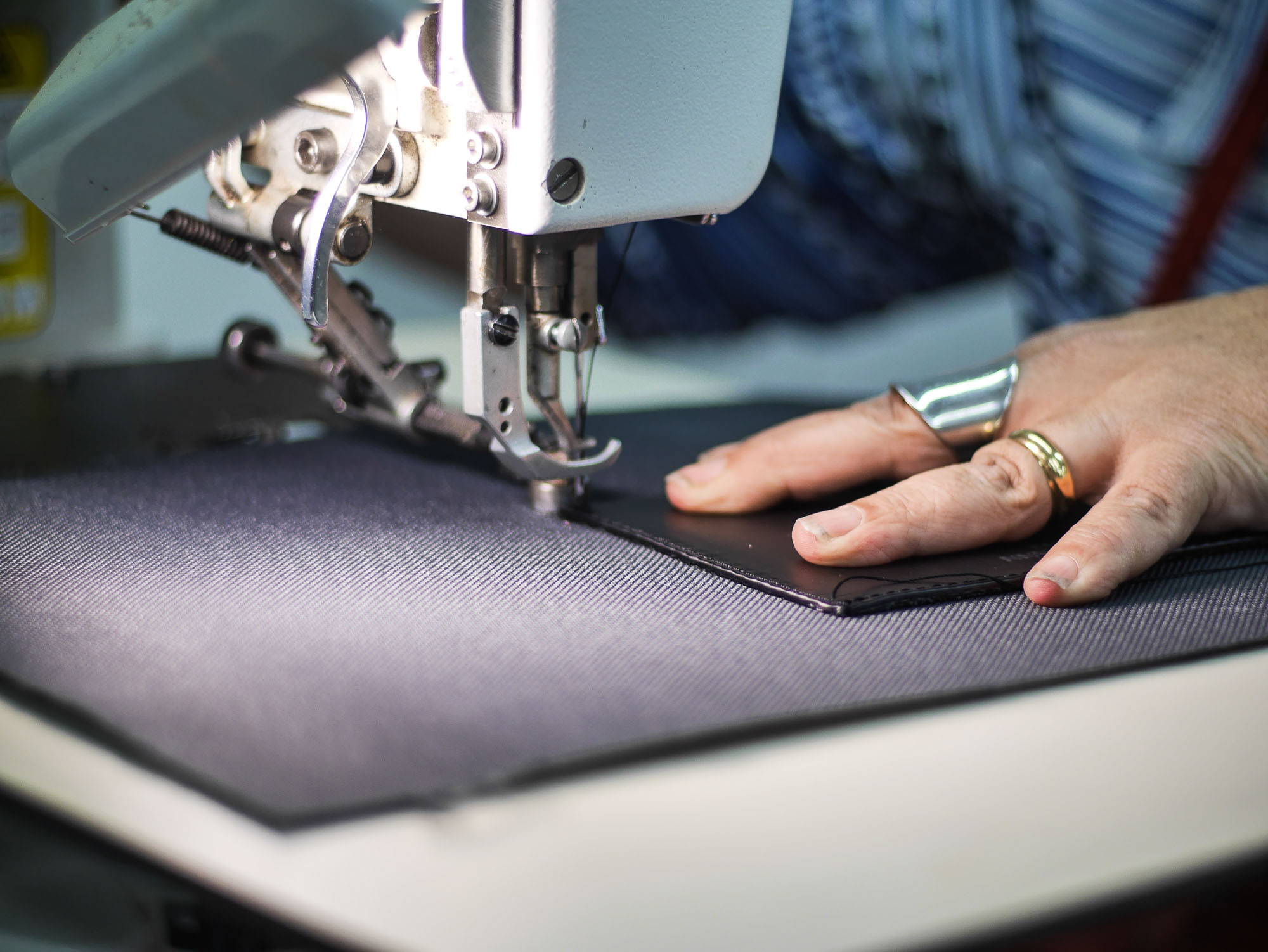 Bi-fold wallet
Undoubtedly one of the most popular wallets around, the classic bi-fold relies on a simple fold-over construction. The unfussy design ensures that this style of wallet remains relatively flat and compact unless overpacked. A typical bi-fold contains an open bill compartment, 4-8 storage slots for cards and an ID window. Additional features include integrated coin purses and external wrap-around bill pockets.
The bi-fold represents the epitome of convenience in the wallet world, offering users quick access to cash and cards, and a bulk-free pocket experience. There is a timeless, 'if it ain't broke, don't fix it' quality to this wallet that has helped to sustain its popularity over the decades. The right one is still sure to earn a nod of approval when you take it out to pay for a round, or two, of drinks.
Best feature: timeless aesthetic.
Worst feature: rarely hold cash.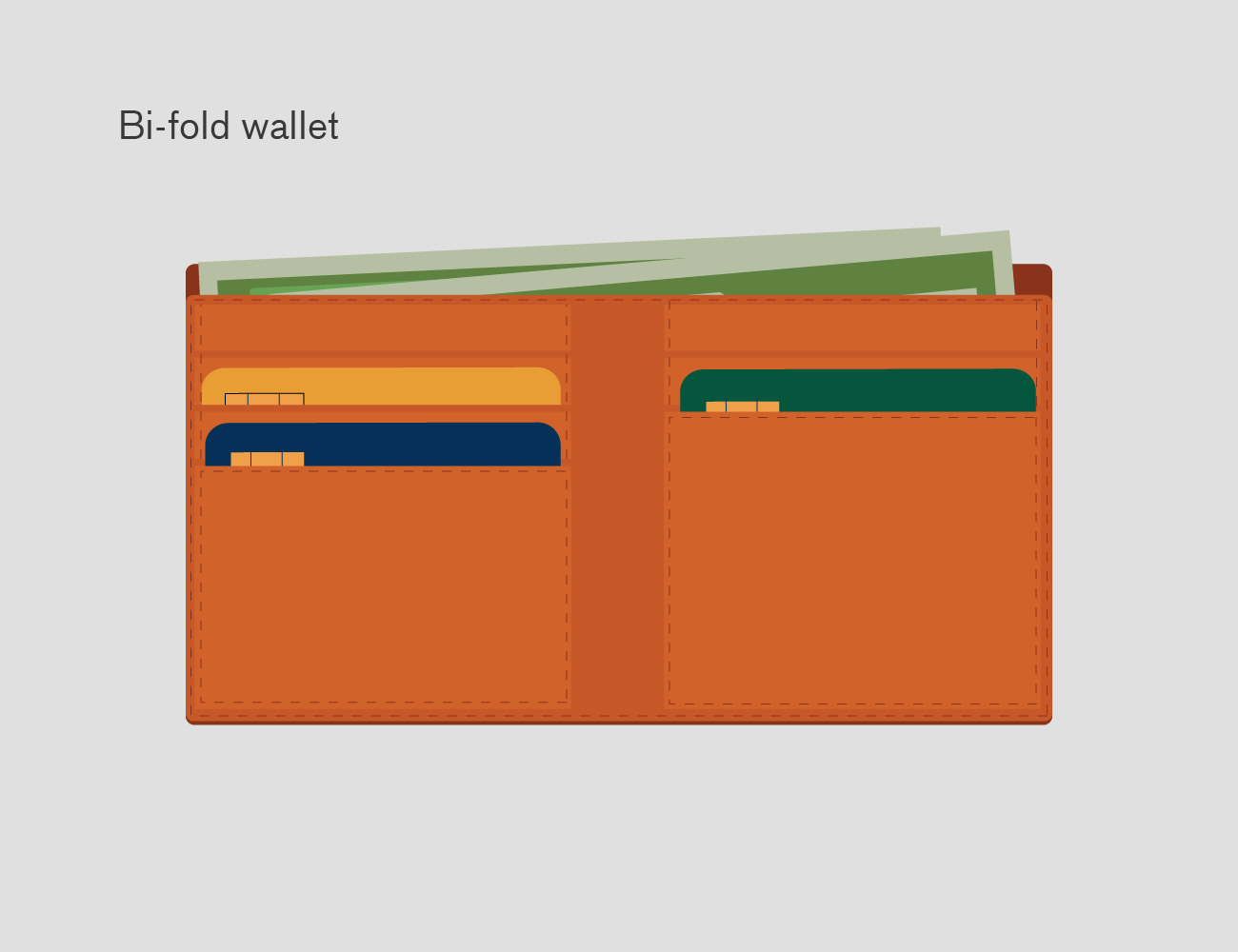 Tri-fold wallet
In essence, the tri-fold wallet is an ever so slightly more advanced iteration of the bi-fold. As the name suggests, it boasts three sections and two folds. This layout gives a few clear benefits. Firstly, tri-folds are designed to shut, with the outer thirds of the wallet folding in on one another when not in use; providing users with greater safety and security than a bi-fold. Storage is another asset. With space in abundance for credit cards, notes, receipts and coin pockets, the tri-fold is one of the best kinds of wallets for hoarders.
The larger capacity does, however, come at a premium. Bulkiness is the price to pay for the additional fold. And many ignore tri-fold wallets because they regard the clunky appearance as the antithesis of style. But in the struggle between fashion and functionality, sometimes the latter just can't be ignored. Tri-folds are more likely to suit you, for example, if you have multiple credit cards or need to regularly show different forms of identification.
Best feature: plenty of storage space.
Worst feature: bulky appearance.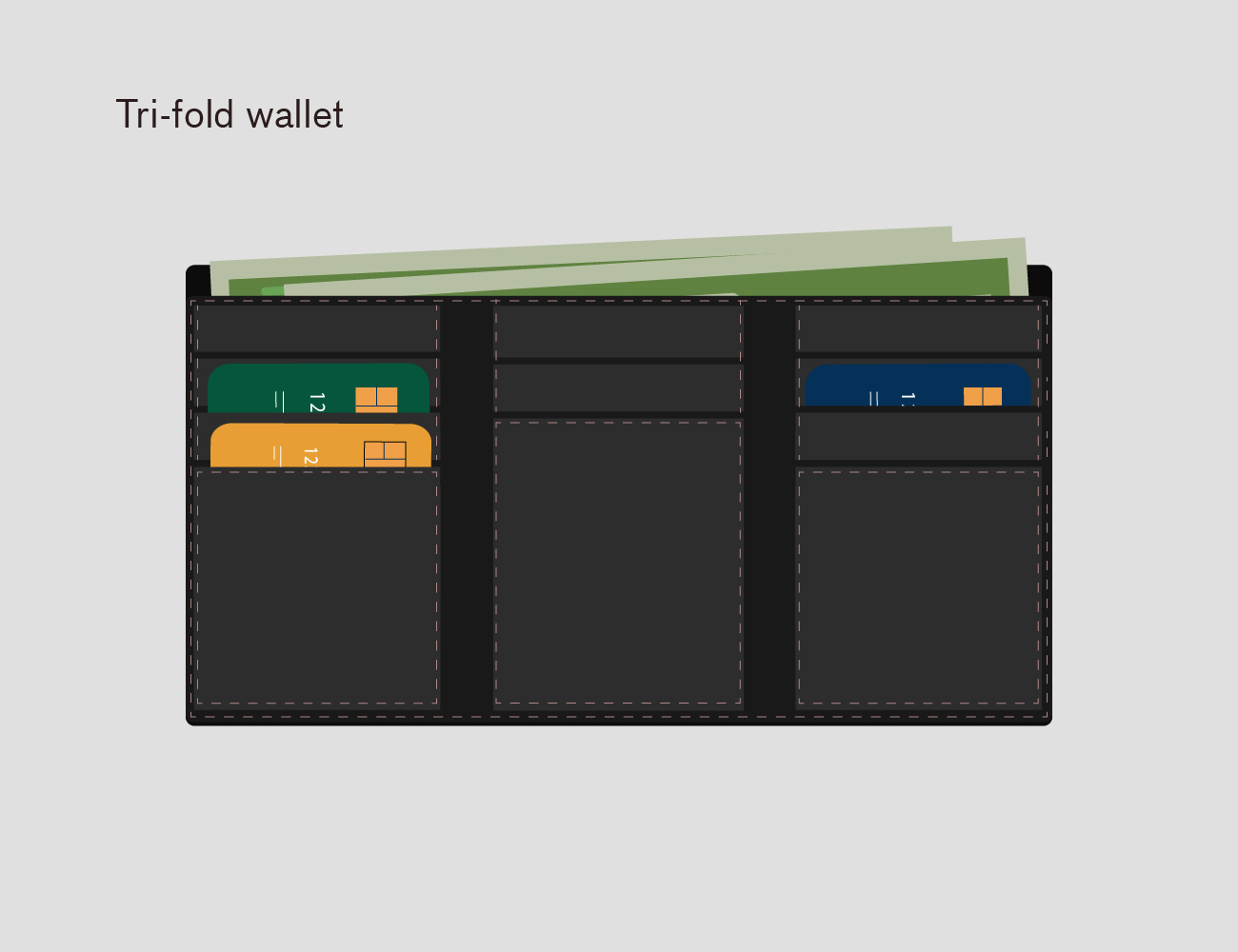 Travel wallet
If you've ever wondered 'what type of wallet should I get?', it's unlikely that the travel wallet ever made your list of contenders. After all, it's a long style wallet with a very specific purpose: to hold your most valuable items abroad while you enjoy the boulevards of Paris or the ruins of Pompeii. But we believe that for frequent adventurers, they're an essential piece of kit.
Considerably larger than a tri-fold, travel wallets can easily accommodate passports, credit cards, travel documents, foreign currency, hotel keys and itineraries. Some are sizeable enough to store an entire family's essentials, making them the perfect organisational accessory. The majority are shut via a zipper to ensure security and produced using durable materials — like quality leather and nylon — to keep up with the demands of travel.
One downside is that travel wallets are extremely large and won't fit inside pockets; hardly a fitting accessory for the suit-wearing businessman. Overall, a narrow specialist that is largely impractical for everyday use.
Best feature: stores and organises holiday valuables.
Worst feature: not an everyday option.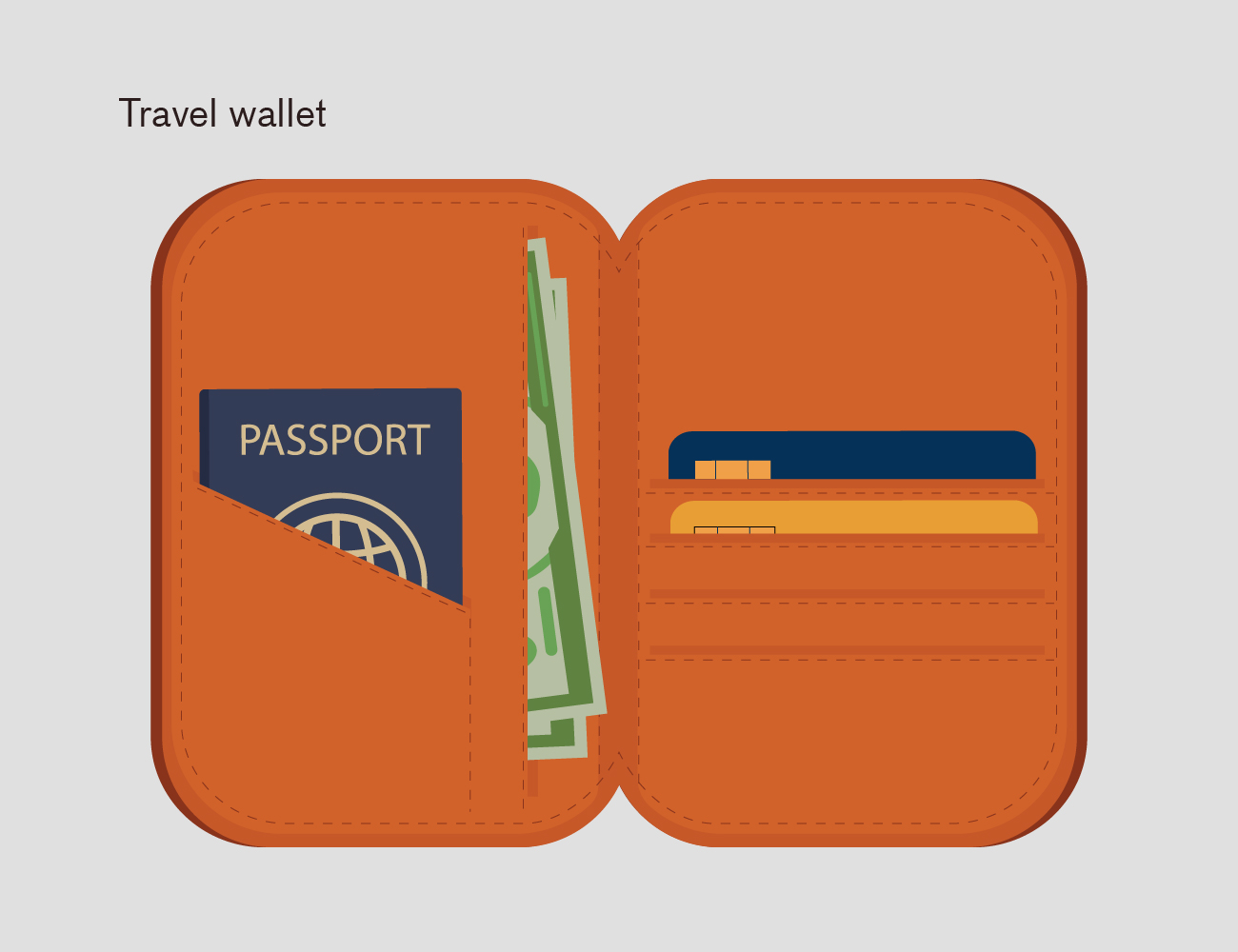 Card holder
As with any staple everyday accessory, such as backpacks or headphones, wallet styles are forever evolving. The digital payments boom and the corresponding decline of cash have helped to usher in a new era of popularity for the minimalist card holder: a non-folding wallet that typically possesses between 6-10 card slots. There are a few subtle distinctions between different types of card holders. For example, our all-leather card holder, Hatton, features a unique side-opening for storing notes in the middle compartment.
The streamlined card holder is the wallet for proponents of a minimalist lifestyle: encouraging owners to carry only the essential essentials, like credit cards, a driving licence and potentially a small number of emergency bills. Light and compact, card holders take up little space and make it easy for you to retrieve the right transport card when the time arises. Because they generally do not hold loose change, they avoid unwanted bulk and are likelier to retain their shape than larger wallets. From an aesthetic standpoint, many also embrace the pared-back and sleek design of the card holder over traditional wallet structures.
Best feature: fitting choice for the digital age.
Worst feature: no compartment for spare change.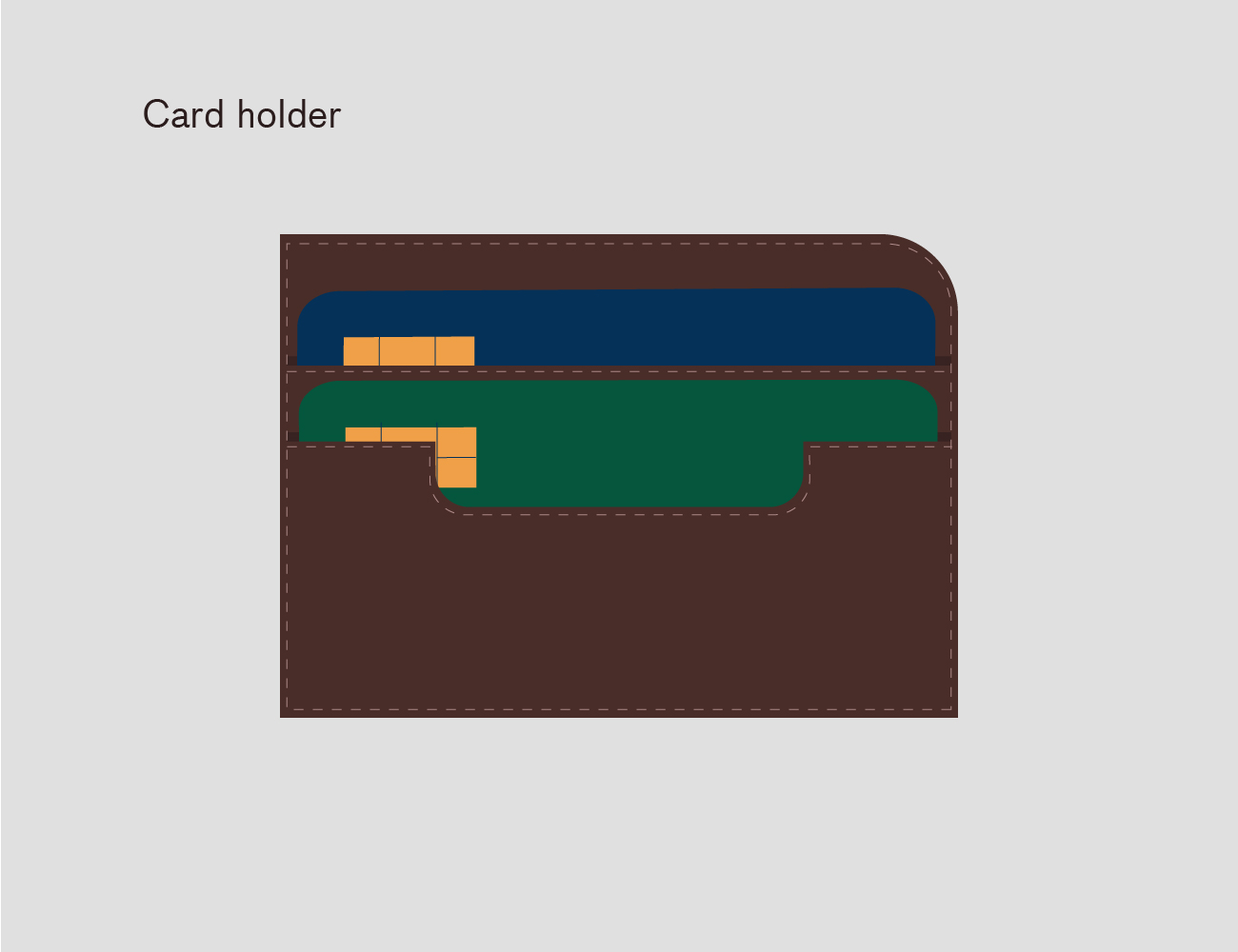 Money clip
Certainly one of the more leftfield options on our list of the best wallets for men. The featherlight money clip wallet has a slim profile, fits perfectly into a suit blazer pocket and is favoured by men who still believe cash is king. A typical money clip wallet shares the fundamental structure of a bi-fold but uses a clip mechanism to organise notes instead of a bill compartment. Certain models also integrate card slots.
Removing notes from a money clip wallet is fast and convenient — easier (arguably) than negotiating the compartments and zippered pockets associated with bi-fold and tri-fold wallets. The downside is that once you've paid, any coins will have to be stored in a separate receptacle or your pockets.
Money clip wallets are manufactured using a plethora of materials, spanning leather, to carbon fibre and stainless steel. There is a range of styles available now, from wallets that are magnetic and embrace a semi-industrial aesthetic, to high-end designer versions with signature logo branding and personalisation options.
Best feature: ideal type of wallet for men with a penchant for cash.
Worst feature: exposes cash to potential pickpockets.
Hybrid wallet
Interestingly, several modern brands are starting to combine features from different wallet types to create unique hybrid wallets.
Our very own Walden wallet is a leather bi-fold with a twist, as the card slots are stacked vertically instead of horizontally. While the wrap-around bill compartment forms part of the exterior, rather than being tucked inside. Additional features like a pull tab for accessing less frequently used cards give Walden a distinctly modern feel.
Other brands have combined an aluminium wallet with a detachable leather case to produce a distinctively new style of wallet. This gives users the opportunity to add extra storage or lighten their load accordingly.
Carl Friedrik's wallets
Our collection of elegant leather wallets includes everything from pared-back card holders to vertical bi-fold wallets. Each is constructed using full-grain Vachetta leather, sourced from a single partner tannery in the heart of Florence. This type of premium leather is luxuriously smooth, natural in complexion and long-lasting.
With a functionality-forward approach to design and a clean aesthetic, our wallets take clear inspiration from the Scandinavian minimalist movement. Handmade by a team of master craftsmen, they are built to last a lifetime.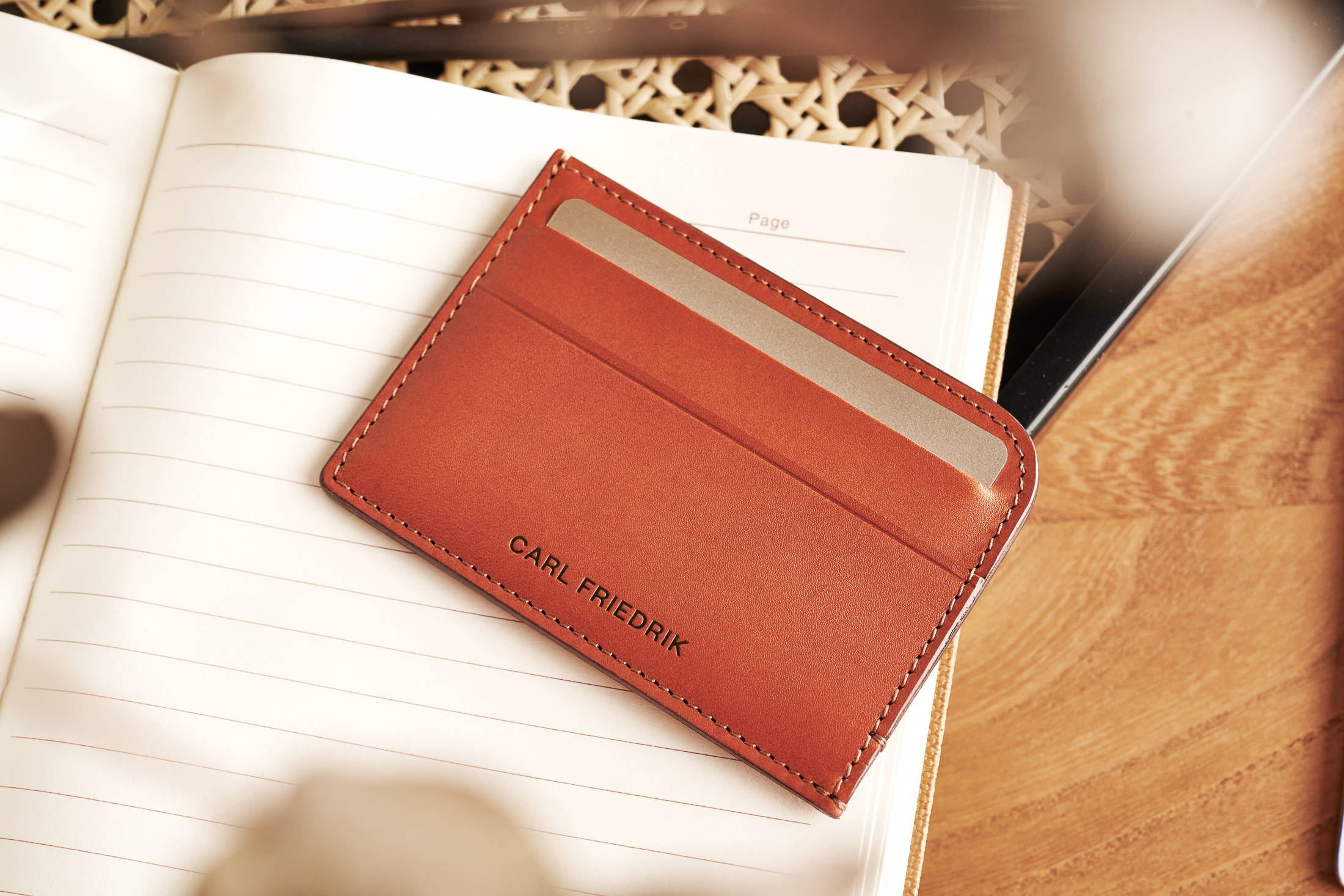 Conclusion
Ultimately, whatever type of wallet you choose should reflect your lifestyle and particular carrying needs. Make sure to do your research, zoning in on variables like storage space and materials. We always recommend opting for a high-quality wallet, as it will be an