You could be forgiven for thinking that the word 'oyster' refers to a seawater mollusc, or that NATO is an alliance of countries with close political and military ties, but in the world of horology, each of these terms refers to a style of watch strap.
Whether you're a budding strapologist or just a curious newcomer, with so many different types of watch bands available, it's helpful to know your Perlons from your Aviators. So we're going to take a look at twelve of the best watch bands around, zoning in on their relative strengths and weaknesses.
We'll start by providing a bit of context.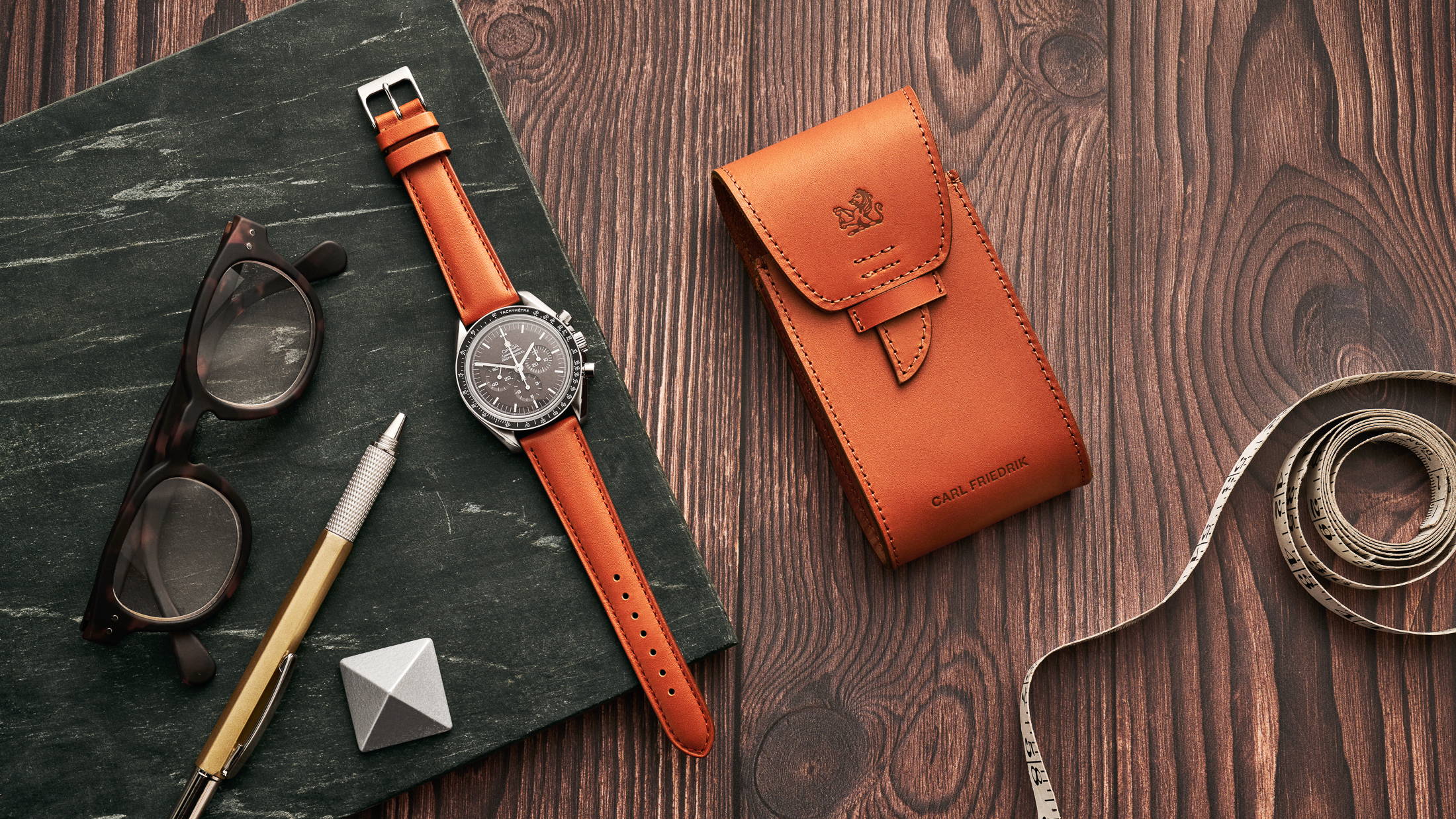 Importance of watch bands
Ever since legendary watchmaker Abraham-Louis Breguet (allegedly) designed the first wristwatch for the Queen of Naples in 1810 we have been experimenting with our watch bands.
From a purely functional perspective, straps are the glue that holds everything together. Take away the strap and you've got, well, a pocket watch. The right one should fit your watch case and feel comfortable on your wrist. Although utilitarian in nature, the strap also serves a decorative function. In fact, a watch owner's choice of strap reflects their individual style — whether they prefer a thin or wide option, metal, rubber or leather.
Owning a diverse collection of straps is a considerably more cost-effective way to switch up your watch game than purchasing a new Audemars Piguet or Omega every few months. And by simply replacing a strap, you can breathe new life into your watch, adding a degree of formality or, conversely, imparting a casual look.
Leather watch bands
Lightweight, soft and comfortable, the greatest strength of the leather watch strap lies in its wearability. While metal bracelets remain rigid, a high-quality, leather-based equivalent will gradually relax and adapt to the shape of the user's wrist. From an aesthetic point of view, leather has a timeless feel to it and is prone to developing a unique patina. Because leather straps are available in a variety of styles, textures and hues, there is a suitable option for all watch cases, from vintage to dressier models.
Aviator
The leather Aviator strap was issued to German pilots during World War II. It had two features that made it well-suited to the air force. Firstly, one or more metal rivets were added besides each of the lugs, ensuring the watch case would never slide off a pilot's wrist. Secondly, the straps were excessively long because they often had to fit over a pilot's jacket.
Now that Aviator straps are widely circulated their length has been reduced accordingly. However, although the rivets have become, in effect, redundant, they have survived on a few modern iterations of the strap. Contemporary horologists regard them as aesthetic additions that hint at the strap's intriguing backstory.
As you might have guessed, the ultimately minimalist Aviator strap is sure to match up well with a classic pilot watch face (think brands like IWC, Hamilton and Breitling).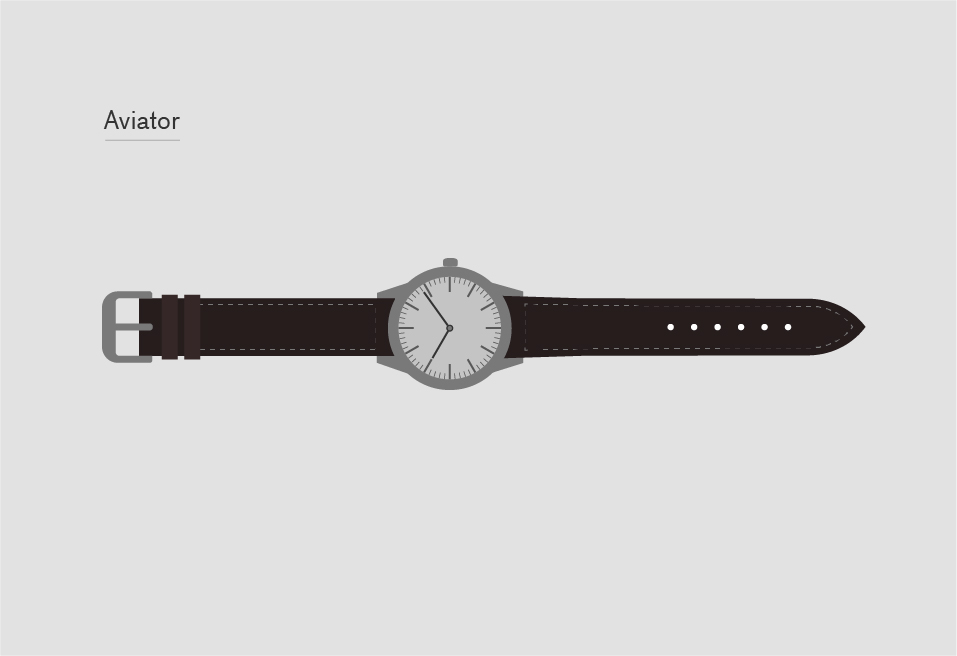 Bund
Arguably the most unconventional strap on our list, the Bund strap represents another invention of the German air force of the 1940s. Life in the cockpit of a World War II fighter jet presented many difficulties, not least soaring temperatures in the event of a crash, or sudden drops in temperature at high altitudes. Each eventuality would cause a metal watch case to respectively scald, or freeze to, the pilot's skin. To counteract this, a leather strap with a thick pad on its underside was constructed, forming a protective layer between the watch case and skin.
The popularity of the Bund strap would peak in the 1970s, driven by an eclectic list of celebrity admirers that included Miles Davis, Steve McQueen and Elvis Presley. While the NATO strap has enjoyed enduring popularity, the Bund's glory days are long gone. Despite that, Montblanc and Tudor have fitted some of their new watch models with Bund-esque straps in recent years.
The disadvantages of the Bund strap are well documented. The extra padding gives it an especially warm wrist feel, not ideal for summertime weather; while the bulky appearance is ill-suited to smaller watch cases and those with thin wrists. However, with its rugged, idiosyncratic appearance, the Bund strap is certainly — at the very least — a conversation starter.
"The popularity of the Bund strap would peak in the 1970s, driven by an eclectic list of celebrity admirers that included Miles Davis, Steve McQueen and Elvis Presley".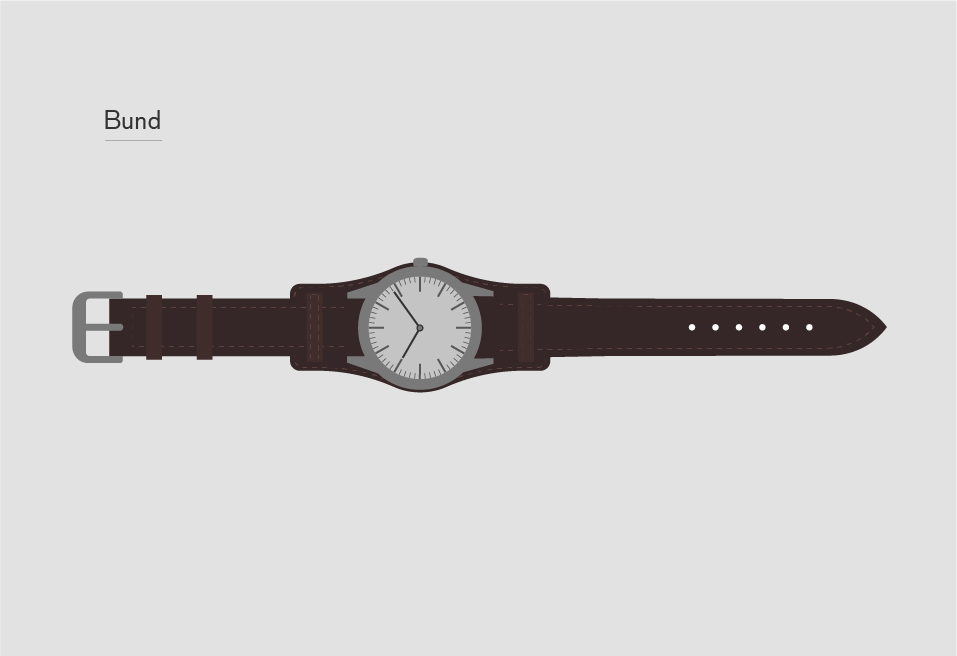 Rally
Diving, aviation and automobile racing have each influenced strap developments in their own unique way. The latter of the three led to the birth of the Rally watch strap in the 1960s, known for the large, circular perforations its sports below its lugs. This peculiar aesthetic owes everything to the speed-obsessed nature of automobile racing. Early race cars were fitted with parts that had sizeable holes in them to reduce their overall weight and encourage higher speeds. This visual identity soon spread to racing gloves and eventually watch straps.
An alternative theory argues that increased ventilation is at the heart of the perforations. After all, an automobile travelling at a high speed naturally generates a lot of heat, and the punched holes allow for improved airflow. Whatever the true nature of the perforations, contemporary watch-wearers eulogise the Rally strap on the basis of its streamlined appearance, association with automobile racing history and unrivalled breathability.
There's a diverse range of Rally straps on the market, so whether you're after one with several large holes or many smaller ones, it shouldn't be an issue. And bear in mind that they work particularly well with sporty vintage watches and chronographs.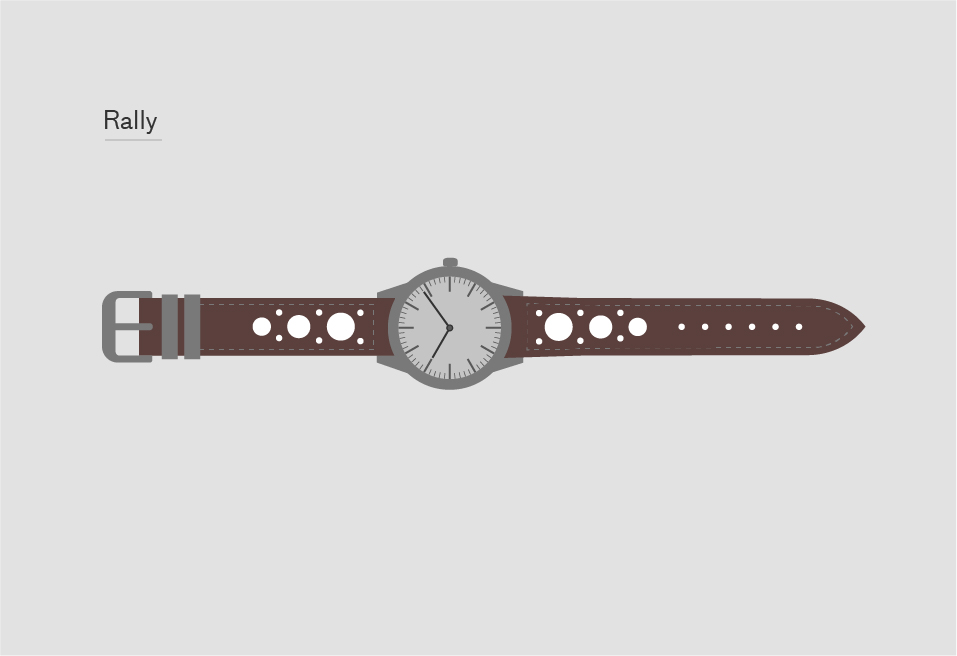 Carl Friedrik's watch bands
We offer two minimalist watch straps in a range of lug width sizes (18mm, 19mm and 24mm). Each strap is constructed using natural Vachetta leather, which is not only durable but also ages beautifully over time, forming a rich patina. The two models are fitted with a premium stainless steel buckle and boast hand-finished edges.
The Classic is lightly padded and has an elegant aesthetic that marries well with traditional and sport watches. The Modern features a flat, stitchless and pared-back design; it is particularly well-suited to contemporary and sport watches.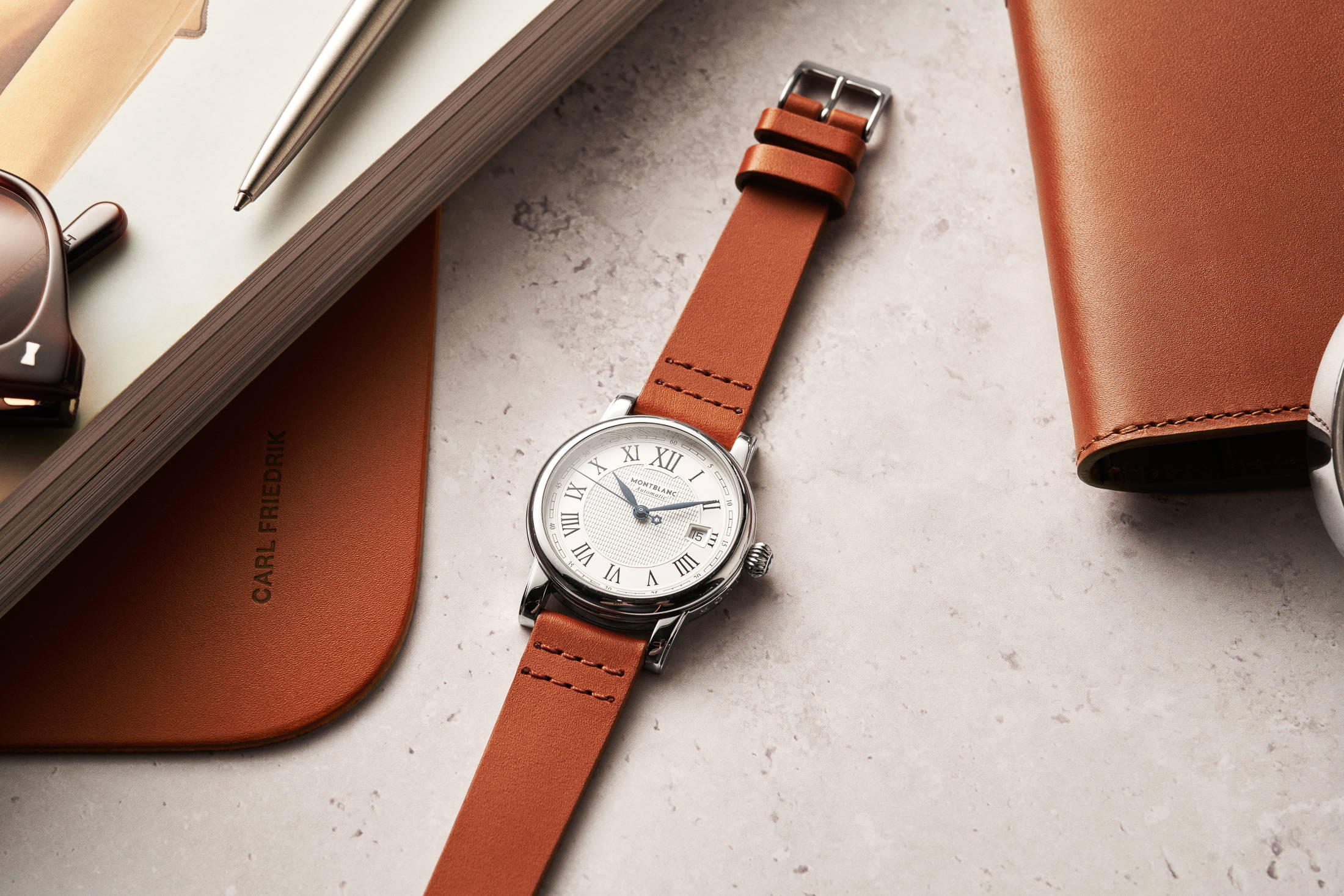 Types of watch bands and their characteristics
| | | | | |
| --- | --- | --- | --- | --- |
| | Leather watch bands | Metal watch bands | Rubber watch bands | Nylon watch bands |
| | | | | |
| | | | | |
| | | | | |
| | | | | |
| | Chronograph, dress, dive, vintage | | | |
Metal watch bands
As a rule of thumb, most types of metal watch bands possess a sleek aesthetic that has traditionally chimed well with sports watches. A variety of metals are used, spanning stainless steel to more valuable options like gold. Stainless steel and titanium straps are also frequently paired with dive watches because each material is highly durable and resistant to seawater corrosion.
Other benefits of metal bracelets include: easy maintenance, all-weather versatility and an absence of sweat-induced odour. While they feel heavier on the wrist than straps produced from other materials (rubber, leather etc), many horologists list weightiness as an indicator of quality.
Jubilee
Debuting back in 1945 to commemorate Rolex's 40th anniversary, the Jubilee is an iconic metal watch strap that has a decidedly dressy feel to it. Initially only available in solid gold, it became more universally appreciated in the 1950s when two-tone and steel variations were released. Apart from that, the Jubilee is virtually unchanged from the time of inception, testament to its enduring appeal.  
The Jubilee features an elegant semi-circular link design, with three narrower, highly polished links intricately set between pairs of larger side links with a matte finish. The contrasting effect gives it a distinct appearance, distinguishing it from other Rolex bracelets.
Structurally it is exceptionally durable and secure, largely due to the interlocking links. One thing worth remembering is that metal straps are particularly heavy, so if you're after a lighter, airy option, the Jubilee — or indeed any of Rolex's straps — is not the way to go.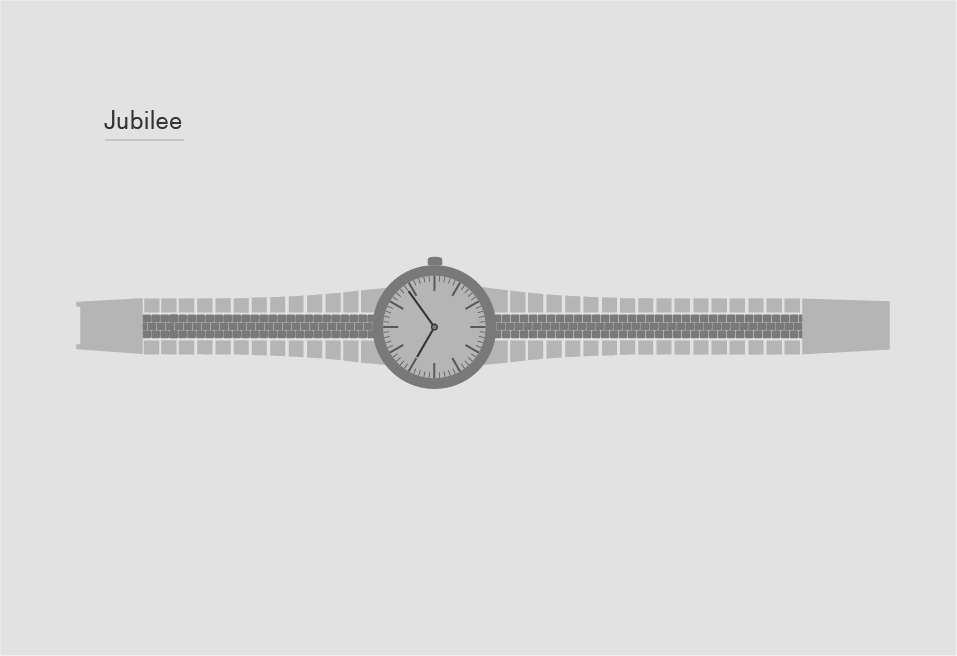 Milanese
Milanese mesh design comprises rows of thin metal coils — stainless steel is generally preferred, but gold, platinum and silver are also used — tightly woven together in a dense construction. The result is a delicate look that many watch enthusiasts affectionately describe as 'vintage'. As such, Milanese watch straps pair particularly well with dress watches, especially those with smaller case sizes (in the range of 30-40mm). For a formal event, then, it's a real contender.
Although the technique for producing mesh bracelets was first stumbled upon by the Ancient Etruscans, the strap takes its name from the metal artisans of 13th century Milan. They went on to perfect the process during the Renaissance and Baroque period, hand producing elaborate mesh-based jewellery and armour. Famed German watch band manufacturers, Staib and Vollmer, began reproducing the straps post-World War I, leading to a surge in demand that cemented the design's popularity.
Comfort is one of the Milanese strap's key advantages. The absence of links means that hair never gets caught up, giving it a distinctively smooth wrist feel. There's also the question of timelessness. Milanese mesh is a centuries-old design born out of artisanal culture and with close ties to elite watchmakers like Breitling. The style will likely never go out of fashion.
"Although the technique for producing mesh bracelets was first stumbled upon by the Ancient Etruscans, the strap takes its name from the metal artisans of 13th century Milan. They went on to perfect the process during the Renaissance and Baroque period, hand producing elaborate mesh-based jewellery and armour.".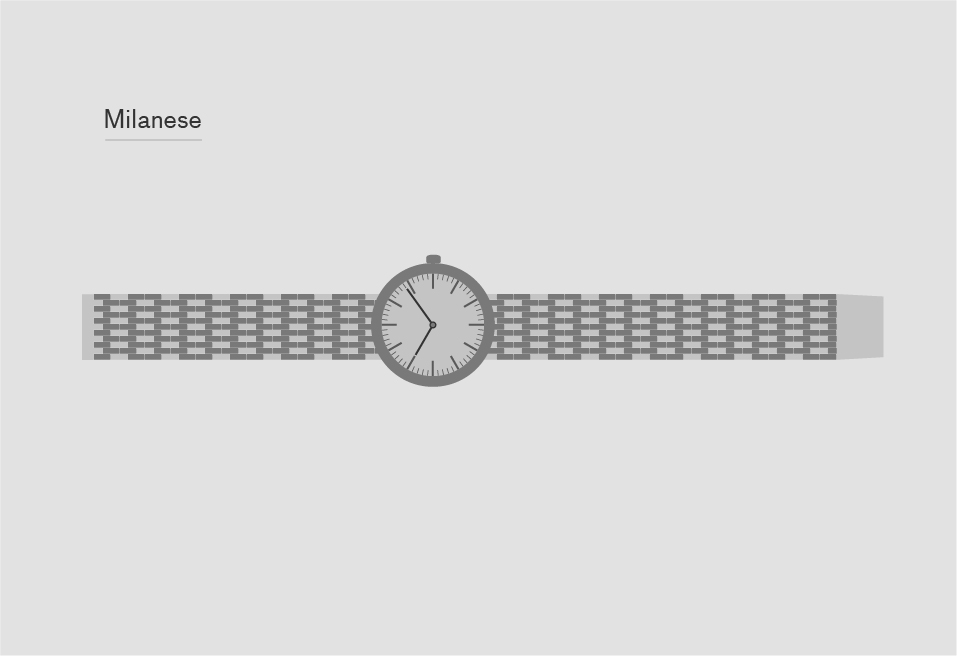 Oyster
Rolex's most recognisable bracelet offering, the Oyster incorporates a highly functional three-link design. Due to the relatively large, flat structure of the links, it's exceptionally durable and unlikely to stretch. The limited amount of links also results in fewer potential breaking points. However, one downside to the construction is that the Oyster can feel quite rigid and bulky. But in terms of overall functionality, it's a cut above the rest of Rolex's bracelet range.
The first iteration of the Oyster was released in the 1930s, and although it has been continually — almost invisibly — refined since it was patented in 1947, the uncomplicated aesthetic has been one constant. Undoubtedly Rolex's sportiest and most relaxed option, it has debuted on almost all lines in the collection to date. Yet the bracelet complements overtly utilitarian models like the GMT-Master and Submariner best.
A genuine all-rounder and arguably the bracelet of 20th-century wristwatch history, the Oyster boasts an almost unrivalled degree of flexibility. While the sizable links are ideally suited to a larger watch case, it would be far from faux pas to match it with a smaller, dressier option.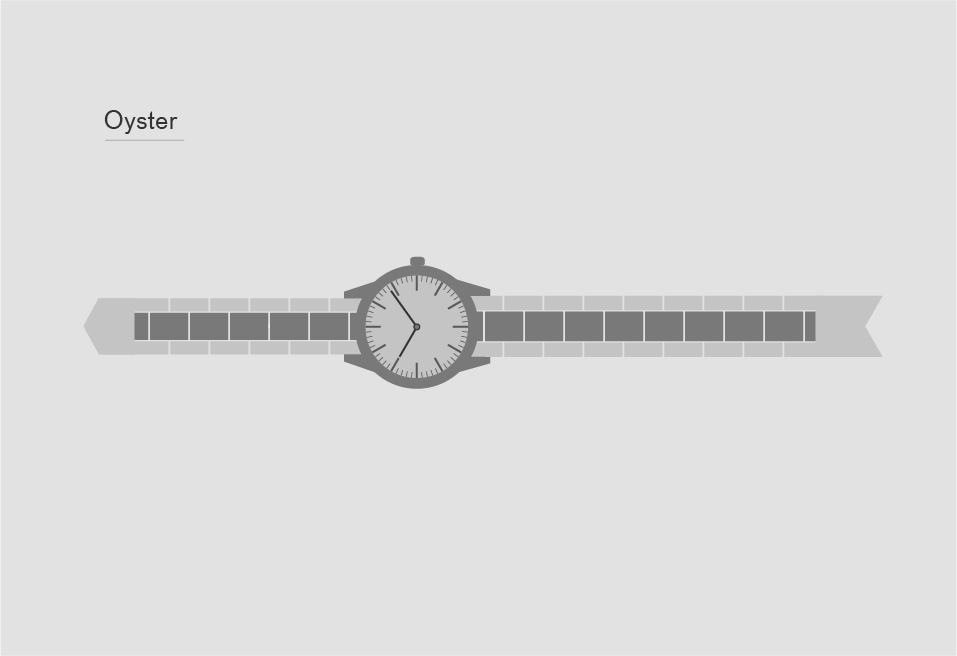 President
The third Rolex bracelet in our list of the best watch bands, the President is only offered on the watchmaker's Day-Date line. To add to the aura of exclusivity, it is also predominantly crafted using precious metals like platinum and gold.
As with the Oyster bracelet, the President makes use of a three-link design. What differentiates it from its more widely circulated cousin is the far thinner and semi-circular nature of the links. This gives the strap greater curvature, which translates to a more refined appearance. It generally suits small-medium sized watches and can be dressed up or down accordingly. On the Rolex bracelet elegance scale, it sits comfortably above the Oyster, but just below the Jubilee.
Introduced in 1956, the President bracelet takes its name from a close association with a string of former US presidents, most importantly, Lyndon Johnson. After Johnson wore a yellow gold Rolex Day-Date in 1965, Rolex adopted the nickname the 'President's watch' in a TV advertising campaign. The new moniker stuck for both the Day-Date watch and the (President) bracelet.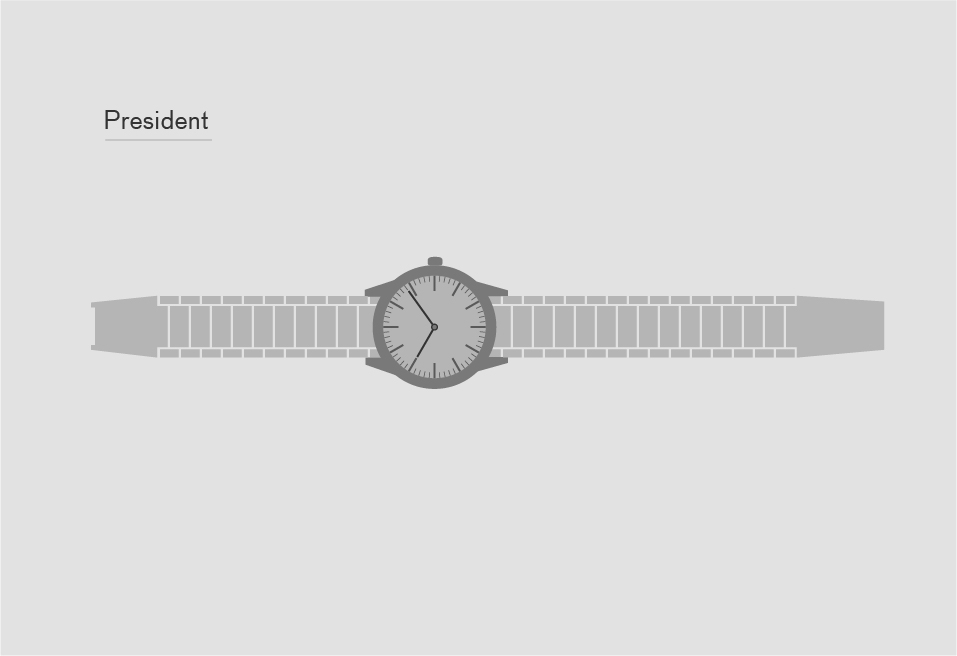 Shark mesh
While Milanese straps have smaller, fine links, Shark Mesh features comparatively larger links — also woven into a chainmail-like design — that give it a heavier feel. The upside is the looser construction offers greater dexterity: useful if you're looking for maximum comfort and wearability. Due to the gaps between the interwoven links, Shark Mesh provides a good level of breathability, too. As such, it's a suitable option for everyday use, or for travelling abroad to a warm location.
The title 'Shark Mesh' derives from a 1971 advertising campaign for the Omega Seamaster 600 Plongeur Professionnel (Ploprof). The Ploprof 600 was a revolutionary wristwatch designed to stand up to the difficulties and intense pressure posed by deep-sea operations. Any highly durable watch requires an equally robust strap, hence the creation of the Shark Mesh band. Although it's not actually 'shark-proof', as the advert quipped, it's certainly an exceptionally hard-wearing dive watch.
Naturally, a Shark Mesh strap will supplement a classic dive watch well. Nevertheless, many connoisseurs see it as a versatile solution for smart-casual and relaxed settings. Overall, an undeniably welcome addition to any strap collection.
Rubber watch bands
Rubber is waterproof, flexible and long-lasting, able to withstand the toughest of weather conditions. So it's only natural that rubber watch straps complement an active lifestyle — matching up effectively with sport and dive watches.
Aside from that, rubber straps are perhaps the most affordable choice on the watch band spectrum. Along with providing great value-for-money, they also boast a light profile and stain resistance. Due to their casual, sporty appearance, rubber straps are ill-suited to dressier watch cases. Instead, they are regarded as trendy accessories for 'everyday' watches.
Tropic
The Tropic holds the honourable title of being the first rubber watch strap ever commissioned. Initially produced in the 1960s, it was marketed as a cost-effective alternative to the metal watch bands commonly used by sportsmen and recreational divers at the time. While metal bands were, and remain, both costly and heavy, Tropic straps are lightweight, comfortable and relatively inexpensive.
The Tropic has other notable advantages. Fashioned out of supple and waterproof rubber, and featuring a regular buckle, the process of altering the strap's size is quick and practical. In the world of diving, where watches are often worn over wetsuits and wrist sizes increase due to changes in the water pressure, the flexibility offered by the Tropic made it a desirable option. For those who prefer to remain onshore, a key attraction is the Tropic's impressive breathability, a natural by-product of the many perforations running lengthwise across the strap.
With a distinct basket-weave pattern and spined edges, the Tropic boasts texture and casual style. Although originally designed for sub-aqua use, it has developed into a fashionable, universal strap, at ease on both earlier and contemporary watches. Overall, an excellent choice for informal settings, sure to bring a touch of understated chic to your wrist.
Waffle
Invented by Japanese watch manufacturer Seiko in 1967, the Waffle strap is an early diver's strap that first appeared on the Seiko 6105 Diver: a truly classic watch. During the Vietnamese War many army-issued watches failed due to the hot and humid conditions; however, the 6105 Diver — popular amongst US soldiers — held firm. The offshoot was that, once the veterans had returned home, Americans took a liking to the unique style of strap adorning the 6105 Diver.
It takes its name (or nickname) from a distinct waffle-iron spiked pattern that appears on the outer side of the strap. Waterproof and easy to clean, the Waffle is blessed with a high level of breathability, much like the Tropic strap.
Discontinued in 1971, genuine Seiko Waffle straps are rare, museum-worthy finds; to make matters worse for the most devoted of collectors, many are in a state of disrepair. While finding an original promises to be a time-consuming — and expensive — affair, locating a modern reproduction is far from it. If you're a fan of the 1960's dive watch aesthetic, this is the strap for you.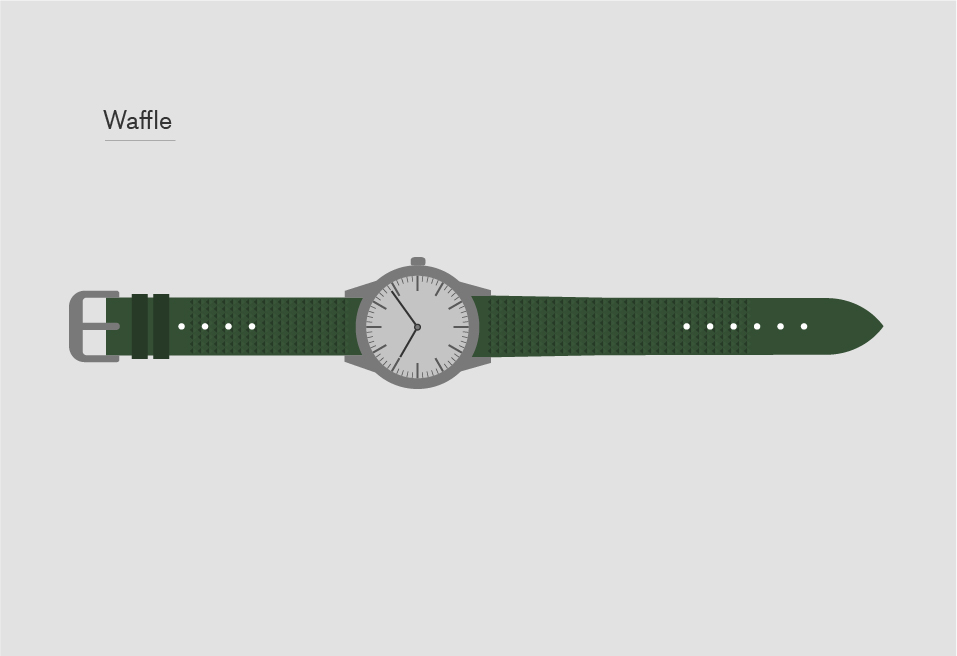 Nylon watch bands
Composed of interlocking synthetic fibres, nylon is extremely durable and featherlight, hence why nylon watch straps are favoured by athletes, gym-goers and adventurers. Such straps usually embrace a pared-back aesthetic, however there is an increasing number of colours and designs available, driven, in part, by demand for nylon Apple watch straps. Unlike rubber, nylon is not waterproof, meaning that it should be cleaned regularly to avoid unwanted smells.
NATO
History informs us that the British Ministry of Defence began issuing NATO straps to servicemen in 1973. While the strap is now available in a multitude of designs and colours, the original model was simply grey nylon. Style came later, but the NATO was first celebrated for its uncomplicated functionality (the single-piece construction means it can be easily removed or refitted) and durability, particularly in wet weather conditions.
The conclusion of the Cold War led to NATO straps being sold in military surplus stores. As such, this once utilitarian-military item soon morphed into a fashionable accessory for the watch-savvy, everyday man: a popularity that peaked in the mid 2010s. In recent years iconic watchmakers like Tudor, Bremont and Hamilton have each released their take on the classic NATO strap.
Inherently robust, relatively inexpensive and with a rugged aesthetic, the NATO strap belongs in any budding horologist's wardrobe. Pair one with a prized dress watch if you need to take the tone down a notch or two. Or, if you're preparing to conquer the great outdoors, attach one to your favourite military-style timepiece.
"The conclusion of the Cold War led to NATO straps being sold in military surplus stores. As such, this once utilitarian-military item soon morphed into a fashionable accessory for the watch-savvy, everyday man".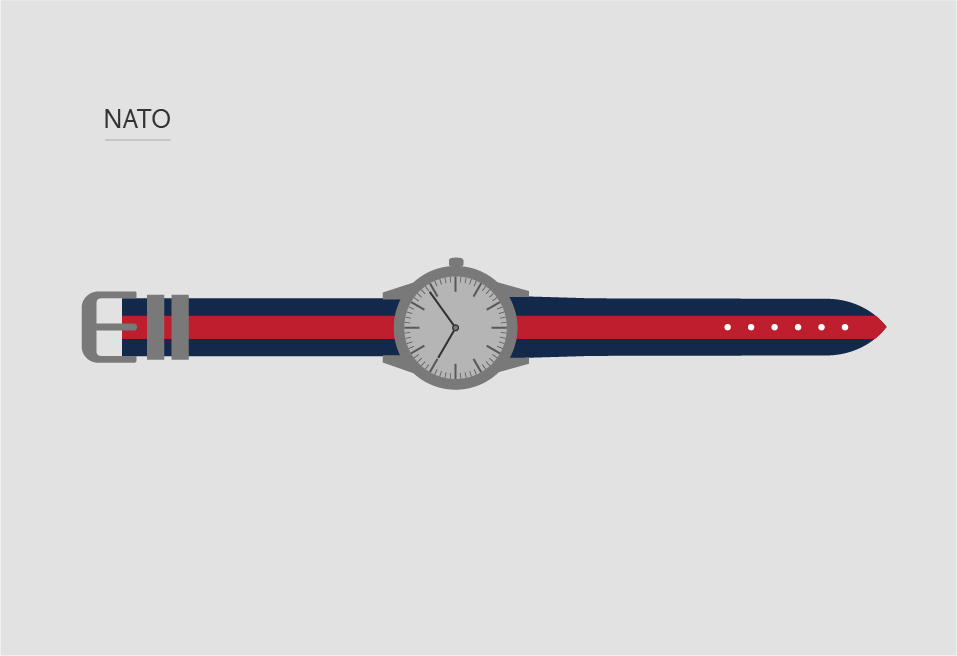 Perlon
The Perlon strap is — allegedly — the brainchild of German watch strap producer, Elion. Debuting in the 1950s, it's effectively an amalgamation of two other styles of strap: NATO and Milanese. Yet, rather than being constructed of one strip of woven nylon — like a NATO strap — Perlon is weaved from thick threads of the same material. The threads bind together to form a kind of nylon chainmail, not too dissimilar to Milanese mesh design.
Naturally, the intricate weaved pattern gives the Perlon strength, elasticity and longevity, while tiny perforations between the threads ensure a high degree of breathability — a necessity for warmer climates. The three-dimensional texture provided by the weave is visually appealing and makes the Perlon appear dressier than the somewhat understated NATO strap.
Another point worth noting is that the Perlon strap offers near-infinite resizability. There are no stamped holes, instead, the buckle's pin slides effortlessly into one of the many openings. Need to adjust the strap's fit while on the move? No problem.
Perlon straps complement a wide range of sport and dive watches, like the Rolex Submariner and Omega Seamaster. They are inherently versatile: the epitome of a smart-casual watch strap.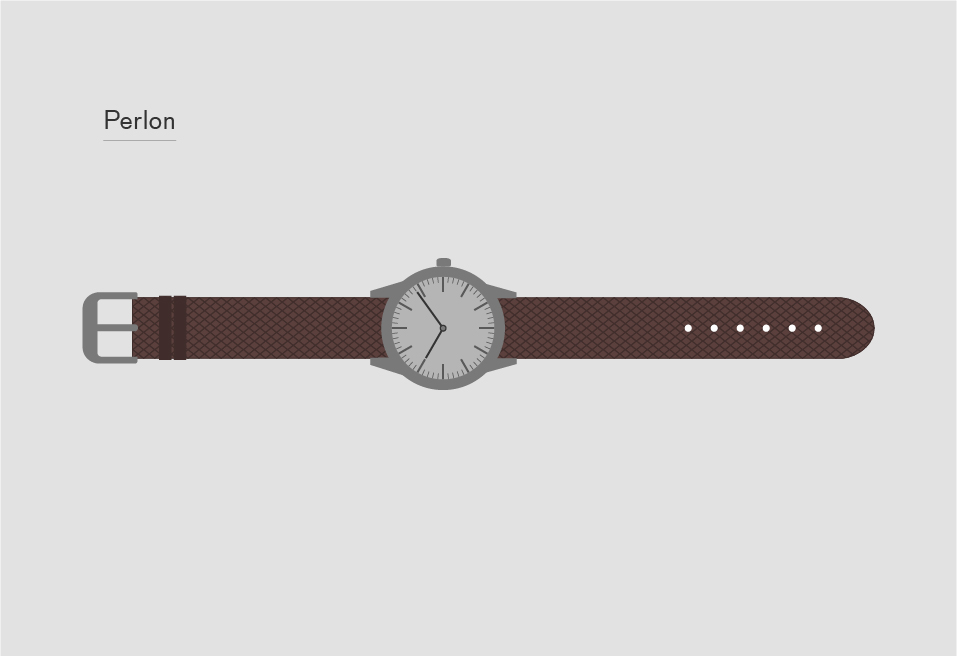 Summary
There you have it, twelve of the best types of watch straps. Swapping straps is one of the great pleasures of owning a watch. Hopefully, you've discovered some new options and been inspired to start experimenting.